Red Bull's Sebastian Vettel determined to win fourth title

By Andrew Benson
Chief F1 writer
Last updated on .From the section Formula 1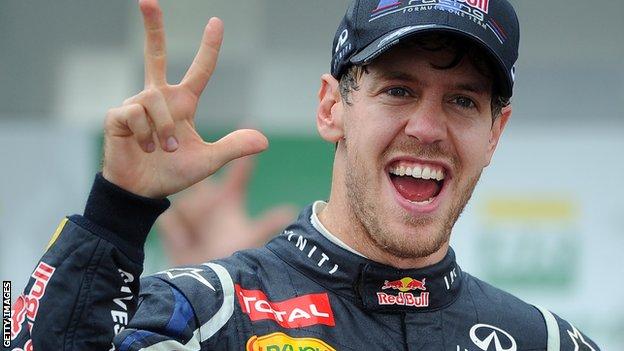 Sebastian Vettel says winning a third consecutive title has not quenched his desire and he is as determined as ever to win a fourth championship in 2013.
The Red Bull driver says he has never struggled for motivation and is already starting to think about next season.
"I want us to be as successful in 2013 as we have been this year and the previous two years," Vettel said.
"Personally, I have never had to simulate motivation - that is part of my nature."
Vettel won the drivers' title in a nail-biting climax in Brazil at the end of November, beating Ferrari's Fernando Alonso by just three points after a 20-race season.
The 25-year-old, who was talking in an interview with the official Formula 1 website, said the little details that added up to the championship victory were what would stick in his memory.
"Right now it is nice to savour the title win and everything that goes with it," Vettel said, "but what stays in your memory much more than anything else are the steps that got you there: the nervousness on the grid at the first race, the stress when it didn't work out as planned, the podiums - all these moments stay in your head forever."
Vettel said that he was not immediately filled with joy when he crossed the line in sixth place at Interlagos, knowing Alonso's second place was not enough to overhaul his lead.
"The eruption [of emotions] came later," Vettel said. "The moment I crossed the finish line I was very quiet - somewhat empty.
"I guess that's what happens when a huge burden comes off your chest. All year long we've been so focused on that one and only goal - and then suddenly you have reached it. That makes you quiet - and probably a bit helpless - for a short instant.
"Then after two weeks you start to exhale and pick up your life where you left it many months ago."
Vettel said he keeps the drivers' championship trophy on his kitchen table at his home in Switzerland.
"I had to give it back in October to give it an overhaul - and that was not an easy farewell!" he said.
"Of course you hope that it will return to you, but you also understand when you read all the engraved names on it that it has a very distinct life of its own. Now it is back in my kitchen, on the kitchen table, to prod me to go out and fight for it in 2013.
"Every time I sit at the table I turn it around to read all the names on it - it's almost a mystic procedure. And to see that the last three engravings are your own name - that moves deeply."
Vettel said that the controversy that erupted in the week following his title victory over whether he had committed an illegal overtaking move during the Brazilian race had not affected him.
Ferrari asked governing body the FIA to clarify the circumstances surrounding Vettel's pass of Toro Rosso's Jean-Eric Vergne on lap four of the race after videos suggested he may have done it at a place where overtaking was forbidden.
The FIA made it clear Vettel had passed a green flag - indicating overtaking was allowed - that was not clearly visible on the video before he started to pass Vergne.
"I never wasted one single thought that an irregularity was involved from my side," Vettel said.
"Even if it was an eventful race I definitely saw all the flags - and their colours!
"I only got information that Ferrari were up to something after Christian [Horner, Red Bull's team principal] called me saying that obviously Ferrari was not too happy with the outcome of the race.
"After the FIA had checked every single inch of the recording of the situation in question - and confirmed that everything was according to the rules - Ferrari renounced any protests.
"But believe it or not I knew since the chequered flag that there was not a single movement wrong from my side."