Bernie Ecclestone era close to ending, says Luca Di Montezemolo

By Andrew Benson
Chief F1 writer
Last updated on .From the section Formula 1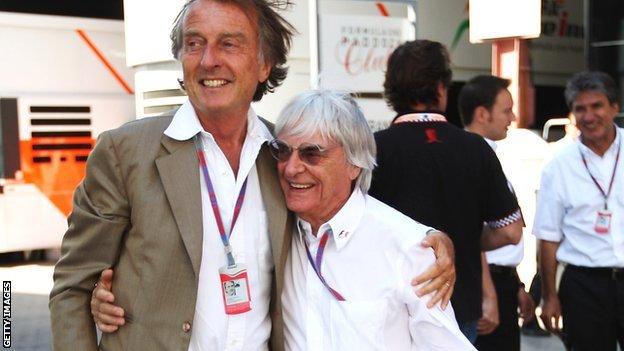 Ferrari president Luca Di Montezemolo says Formula 1 is "very close" to having to "move on" from the stewardship of Bernie Ecclestone.
Di Montezemolo believes the sport needs a change of direction.
"We are very close to opening a new page in the future of F1, acknowledging the good work that Bernie has done but moving on," Di Montezemolo said, adding the sport needs "a more modern view".
"I always say to Bernie the one-man show in life is finished."
Di Montezemolo's remarks were made at Ferrari's traditional pre-Christmas media lunch at the team's base in Maranello.
At the event, Di Montezemolo returned to well-worn Ferrari themes, including his distaste at the four-year-old ban on in-season testing and what he regards as the overwhelming importance of aerodynamics in F1.
He also made some remarks about the quality and relevance of the teams at the back of the grid and said he planned a renewed push to allow the top teams to sell cars to smaller teams.
But he went further in his comments about the running of the sport than he has for some time.
"We are slowly approaching the end of a period characterised by the style of one man who has done significant things," said Di Montezemolo, 65.
"It's a bit of a similar case to what will happen to me: within the decade I will face this question, but when I am 75 not 82."
The Italian even brought up the problems faced by Ecclestone in Germany, where the state prosecutor is considering whether to charge him following
"First of all, I hope for Bernie and F1 that nothing will happen," Di Montezemolo said. "If Bernie is accused under process [formally charged with an offence] I think he will be the first to step back in the interests of Formula 1. This could be bad for F1."
Di Montezemolo said he disapproved of the tendency for new races to be held at circuits in the middle of nowhere with no atmosphere, adding that he was sorry to see the lack of engine manufacturers, and complained about the ageing audience and the lack of opportunity to develop technology relevant for road cars.
"If I could have tomorrow, Porsche engines, Honda, Audi that would be good. But if you cannot develop your engines it is not possible. It is one of the main problems that we face," he said.
"We have 100 people working only in the wind tunnel. Why? It is a joke. We don't do any mechanical research. We don't test any more.
"We are not in a position to give young drivers opportunity in a competitive way. We are not in a position to organise events for sponsors.
"Yes I'm in favour of reducing costs but I'm not in favour of not testing at Mugello (Ferrari's test track), or for somebody else not to test at Silverstone just because some teams cannot afford it."
He added: "As for testing, it's getting close to ridiculous. (Governing body) the FIA is not opposed to it, we are not, and so what is the reason for it?
"There are teams who have put a lot of funding into simulators as have we, while at the same time we have invested heavily at Mugello, which is now one of the nicest circuits in the world."
He said he would be raising these issues with FIA president Jean Todt and Ecclestone in the near future.
He also made it clear he was unhappy about Ecclestone getting involved in the controversy about
Ferrari asked for a clarification, after which the FIA made it clear the Red Bull driver had done nothing wrong.
Ecclestone had
Di Montezemolo said: "Every so often, Bernie likes to play the boss and gets involved in matters that don't concern him - godfathers no longer exist, at least not in Formula 1.
"Interpretation of flags, be they yellow or blue, is nothing to do with him and he used expressions that I do not accept.
"Our behaviour in this instance was not only transparent, but perfect, and maybe he would do better to think about attracting bigger crowds and more youngsters, and to discuss more with the television stations and the media."