Formula 1 2012: What a Year

By Andrew Benson
Chief F1 writer
Last updated on .From the section Formula 1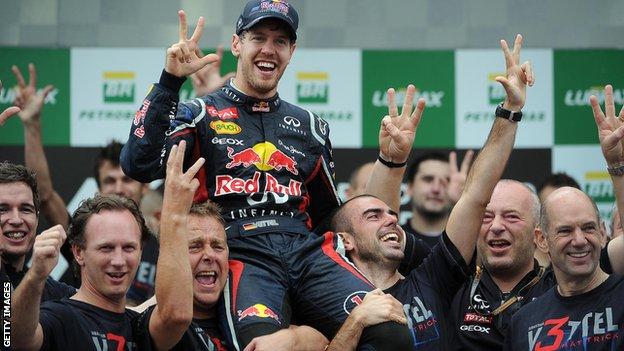 The 2012 Formula 1 season was one of the most exciting and eventful in history, a championship in which ultimately excellence on both the athletic and technical front triumphed over an unpredictability that had appeared as if it might over-ride both.
The longest campaign in motorsport history fell into a series of neat chapters. For a long time, a driver in an inferior car performing at a level of consistency rarely achieved looked poised to pull off one of the most remarkable championships in history.
In the end, though, one of the greatest brains sport has ever seen got on top of the challenges presented by a pre-season change of rules and another driver - also an extraordinary talent - wrote his own place in the record books.
Seven different winners in the first seven races made 2012 very different from the domination with which Sebastian Vettel and Red Bull controlled the previous season, with 11 wins and 15 pole positions in 19 races.
The German, who did eventually end the year as champion, spent most of 2011 saying he had never taken his success for granted. But in an exclusive interview for BBC F1's season review programme he admits that the lack of success did come as a bit of a shock.
"In 2011, winning so many races, it was never expected when we arrived at the track that we would come to the circuit and win," he said.
"But we were always in a very strong position, and in a way I probably now have to admit you get, not used to it, but somehow in the back of your head you have the expectation of being able to fight for the win. And at the beginning of this year we were simply not in a position to fight for the victory."
In fact, it took until the fourth race of the year in Bahrain for Vettel to win for the first time and he was not to do so again until Singapore at the end of September.
The German's closest challenger at the controversial desert race, held against a backdrop of political turmoil, was the Lotus of Kimi Raikkonen, who had returned to F1 after two years in rallying.
Raikkonen's ultimate pace was not quite there in the first half of the season, the Finn more often than not being beaten in qualifying by team-mate Romain Grosjean, but he showed admirable consistency in the races.
In the end, Raikkonen did not win in Bahrain - coming from 11th on the grid had taken too much out of his tyres and in the one chance he got to pass Vettel he hesitated and chose the wrong side.
BBC F1 co-commentator David Coulthard believes this was a result of a specific and very deliberate approach to the year by his former McLaren team-mate.
"He weighed up the situation and, risk versus return, he knew he didn't have the fastest car and he was going for consistency," Coulthard says, "and there will be a few people who didn't take two years off to go rallying might look at their own performances and just question, actually, Kimi did an amazing job on his comeback."
Third in the championship was the well deserved result.
By Bahrain, another theme of the season had been established - McLaren's inability to make the most of what was on the balance of the season the fastest car on the grid.
All the potential demonstrated by a dominant victory for Jenson Button in the season-opener in Australia and two consecutive poles for Lewis Hamilton was thrown away by a series of operational failures in the early races and then poor reliability later on.
"If we were cruel," says BBC F1 chief analyst Eddie Jordan, "we would say McLaren blew this championship. They had everything in their favour, from drivers to car to designers to budget to everything. They blew it."
In among the team failures, though, Hamilton's class was obvious. "This was one of his strongest seasons," Coulthard says. "He didn't win a championship, he didn't win as many grands prix as he should have but he certainly showed he's world class."
In many eyes, Hamilton's driving this season was second only to that of the remarkable Alonso. In a Ferrari rarely close to the ultimate pace, and which was particularly weak in qualifying, the Spaniard somehow built up a 40-point lead over his closest challenger by the mid-season summer break.
He did so by extracting every inch of potential from his car and performing at his best at every single race of the season, something no other rival could claim.
In the end, though, even Alonso could not hold off Vettel as two parallel situations developed in the second half of the season.
Firstly, Alonso's luck ran out. He was taken out in a multi-car pile-up at the start in Belgium, missed a potential front-row qualifying spot in Italy with a mechanical failure and then crashed out again at the first corner in Japan, after his rear wheel was tagged by Raikkonen's Lotus.
He was clearly blameless in the first two, but some have claimed he took risks he did not need to in his position in Japan. Coulthard, though, does not agree. The Scot's views tally precisely with those of BBC F1 technical analyst Gary Anderson - and this writer, for that matter.
"You've got to look at Belgium and Japan as races where the championship went away from Fernando," Coulthard says.
"Spa was just one of those racing incidents that you can't do anything about. At Suzuka, I can't see what else he could have done.
"I don't think he was actually trying to squeeze Raikkonen, but I also think Kimi should have realised Fernando wasn't going anywhere.
"All very unfortunate, and Alonso winning the championship in a Ferrari that was a long way off being the fastest car would have been an amazing story. He drove quite brilliantly with what he'd got."
The Spa incident also drew a pithy appraisal from Coulthard on the subject of Grosjean, who was given a one-race ban for causing it.
"Some people are good racing drivers and others are just fast racing drivers," Coulthard says, "and at this moment it was clear that although Romain was quick, he wasn't good when it came to close-quarter racing."
As Alonso's season was unravelling, Vettel and Red Bull were getting into their stride.
Chief technical officer Adrian Newey, F1's pre-eminent design intellect, had always had his eye on getting back as much of the downforce lost by the ban on exhaust-blown diffusers as possible, and an upgrade for the final third of the season finally got him there.
A critical tweak to the use of exhaust gases to enhance the rear aerodynamics was introduced in Japan. In tandem with a clever 'double DRS' overtaking aid that made its debut at the previous race in Singapore, it put the car on another level from the rest and Vettel romped to four consecutive victories.
The first was inherited after the gearbox in Hamilton's leading McLaren failed but the next three in Japan, Korea and India were crushing. Suddenly, as Coulthard puts it, "it was like watching 2011 again".
That put Vettel into the championship lead and it was always going to be difficult for Alonso to recover from there.
That's how it proved, but the fact the Ferrari driver ultimately lost out by only three points - and actually outscored Vettel in the final three races by 10 points - underlines not only what an utterly fantastic season Alonso had but also how unlucky he was not to win it, even in what was at best the third fastest car.
Of the two, whoever won it was going to be a three-time champion, and Vettel has now become only the third man in history to take three titles in a row.
He has yet to prove that he can consistently get the best out an inferior car, as Alonso and Hamilton can, but in a competitive one he is formidable. "For me in time he will become one of the greats of the sport," Jordan says.
Hamilton's woes with McLaren made his decision to join Mercedes for 2013 all the easier, and that move directly forced Michael Schumacher into retirement.
The great German's comeback did not go as he planned, although his final season was undoubtedly the best of the three.
Schumacher's departure means 2012 will be unique for now in having had six world champions racing on the track.
"We'll probably not see it again for quite some time," Coulthard said. "But it did give us an amazing season. All six of those world champions - apart from Michael, actually - they all delivered."
Perhaps the last word, though, should go to Jordan.
"We were very pleasantly surprised how many genuine contenders there were," he said. "I thought the unpredictability made it a stand-out year."