Red Bull's Adrian Newey says title wins affecting 2013 preparation

By Andrew Benson
Chief F1 writer
Last updated on .From the section Formula 1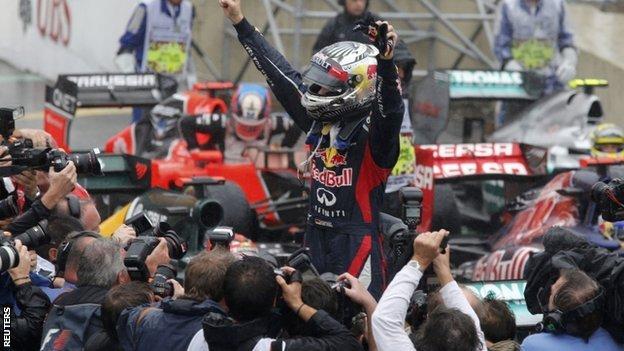 Red Bull design chief Adrian Newey says Sebastian Vettel's title campaign in 2012 has affected the team's preparations for the coming season.
Vettel narrowly won the title at the final race in Brazil after an intense battle with Ferrari's Fernando Alonso.
Newey told Autosport: "We were introducing developments to the car right up to the penultimate race.
"That has made it difficult to introduce all of those and simultaneously develop the next car."
The 54-year-old said that the challenge of running dual programmes and the necessity to keep developing the 2012 car to the end of the season had delayed work on the 2013 car, the RB9.
"If I'm honest, this has compromised the timescales of the new car more than we would have liked," he said.
"It was the right trade at the time, because we managed to get the job done but it means a busy winter trying to catch up again."
Red Bull told BBC Sport that they would confirm next week whether the 2013 car would be ready in time for the first pre-season test, which starts on 5 February at Jerez in Spain.
Vettel's title was the 25-year-old German's third in a row - and Red Bull have also won the last three constructors' championships.
Talking in an official Red Bull film, Newey said 2012 had been "one of the toughest seasons I've been through".
Team boss Christian Horner paid tribute to Newey, saying that after leading Williams, McLaren and now Red Bull to multiple world titles the Englishman had established himself as a legendary figure in F1 to compare with any of the great designers.
"What he's achieved is quite phenomenal. He is now arguably the best ever designer in F1. I think he surpasses what even [Lotus founder] Colin Chapman achieved," Horner said.
"He is absolutely relentless in his desire for excellence and his desire to keep improving the car."
Vettel's team-mate Mark Webber added: "To get three world constructors' titles on the bounce, your mind does drift to Adrian because he is such a powerful influence.
"All those micro decisions he makes along the way; you can see him ticking away asking Seb and I questions and then three months later something pops out and you're like, 'Oh that's what he was on about then.'"
Vettel said he was still motivated to achieve more, despite becoming only the third man in history after Juan Manuel Fangio and Michael Schumacher to win three consecutive titles.
"Stop now [and] it is still a lifetime achievement," he said, "but I hope there is still so much more to come - things on the race track but there is also a lot of things off the track.
"One day you want to have a family, kids... I am looking forward to those kinds of things."