Fernando Alonso rejects Red Bull advisor Helmut Marko's criticism

By Andrew Benson
Chief F1 writer
Last updated on .From the section Formula 1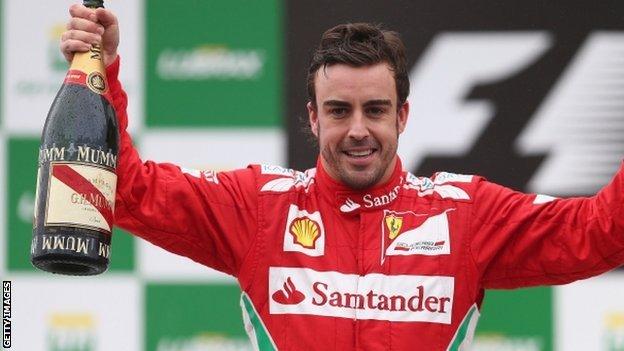 Ferrari's Fernando Alonso has dismissed criticism aimed at him by Red Bull motorsport's advisor Helmut Marko.
Marko said the Spaniard was "busy with politics and funny comments", something which he felt affected his title bid.
But Alonso said on his Twitter account: "I enjoy reading Red Bull still think we will be the strongest rival for next year! And this even before we start testing! Flattered!!"
Marko also said his team's driver Mark Webber could not cope with pressure.
Marko's comments come in an interview with Red Bull's in-house magazine, the Red Bulletin.
In it, he also extensively praised Webber's team-mate Sebastian Vettel, who won his third consecutive title in 2012.
Marko said: "Sebastian's driving was virtually flawless. But he is a phenomenon: it is always like that. After the summer break, his performance curve shoots up. That's what happened in previous years, too.
"I don't know how he does it, but to keep doing it cannot be a coincidence.
"That brings us back to his method of preparation, the way he shuts himself off from the rest of the world, so that he can still call on reserves that other drivers might not have: Fernando Alonso, for example, who is busy with politics and funny comments.
"Vettel ignores it all, he doesn't read the newspapers, or the internet. And that's the point, you see, we concentrate on our job: to make the fastest car and the best team possible."
He added: "Alonso is constantly involved in politics.
"I believe we saw the stress he was under towards the end of the season.
"Saying things like, 'I'm competing against (Lewis) Hamilton, not Vettel,' and 'I'm up against (Red Bull design chief Adrian) Newey,' these psychological skirmishes. We said, "Just ignore him.'"
Marko's comments about Vettel being "virtually flawless" will raise eyebrows, not least because he made more mistakes in 2012 than did Alonso, who was driving an inferior car.
But perhaps the most controversial remarks concern Webber, who has driven for Red Bull since 2007 and won two races in 2012.
Marko said: "For much of his career, Mark was never in a top team, but he was always regarded as a high flyer if he only could get into the right team.
"Then Red Bull puts him in a car - a possible winner - and suddenly along comes this young kid and he snatches the booty from under Mark's nose. Psychologically it's not easy, of course; this would gnaw away at anyone's confidence. It's more than understandable.
"It seems to me that Webber has on average two races per year where he is unbeatable, but he can't maintain this form throughout the year. And as soon as his prospects start to look good in the world championship, he has a little trouble with the pressure that this creates.
"In comparison with Seb's rising form, it seems to me that Mark's form somehow flattens out. Then, if some technical mishap occurs, like with the alternator for example, he falls relatively easily into a downward spiral.
"No driver remains unaffected by this, because the tension is palpable. In 2010, it was particularly extreme. "