Mercedes appoint Toto Wolff as director of motorsport

By Andrew Benson
Chief F1 writer
Last updated on .From the section Formula 1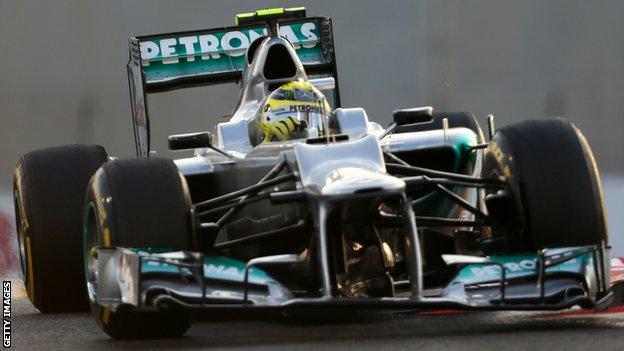 Toto Wolff, a shareholder in Williams, has been appointed Mercedes' motorsport boss and executive director of its Formula 1 team.
Wolff will help run the company's F1 programme as well as overseeing its other motorsport activities, including in German Touring Cars (DTM).
Wolff will retain his shareholding in Williams, which is in the region of 10%, but relinquish his directors role.
He will also take what Mercedes describes as "a significant minority interest" in Mercedes' F1 team, of which he will be executive director.
Non-executive chairman Niki Lauda, the triple world champion who was instrumental in persuading Lewis Hamilton to join as a driver for 2013, also becomes a shareholder.
Wolff and Lauda will manage Mercedes' F1 operations along with team principal Ross Brawn.
Dieter Zetsche, head of Mercedes-Benz Cars and chairman of the management board of Daimler AG, said: "As an entrepreneur, investor and motorsport manager, Toto Wolff has proven that this sport runs in his blood; at the same time, he is also well aware of the economic necessities of the business.
"With Toto Wolff, we have gained for our Formula 1 team not only an experienced motorsport specialist, but also a longstanding enthusiast of the Mercedes-Benz brand. Together with him and Niki Lauda, we will further develop our motorsport activities and guide our Silver Arrows into the next era."
Wolff said he was leaving Williams "on good terms", adding: "Mercedes is one of the most important participants in motorsport worldwide. I am not only a big fan, but also a longstanding friend and enthusiast of the brand.
"I am looking forward to the challenge and, along with preparing for a successful racing season, also want to focus on the targeted promotion of new talent."
Williams team principal Sir Frank Williams said: "Toto was a key support to me in his role as executive director last season, deputising at a number of races when I was unable to attend.
"However, positions such as the one offered to him by Mercedes do not come around often.
"Toto has a long history with them and I certainly was not going to stand in the way of him accepting this once in a lifetime opportunity."
Wolff's departure, along with that of chief operations engineer Mark Gillan last December, seems to leave a void at the top of the company.
Wolff acted as de facto team boss for much of the second half of last season and Gillan ran the engineering side of the team at the racetrack.
Williams said the team would continue to be run by its executive board. It is expected they will make a new appointment to fill Gillan's position.
Wolff's appointment is the latest development in a major shake-up in Mercedes' sporting department.
In September, Lauda's appointment as non-executive chairman of the F1 team was announced at the same time as Hamilton's signing as their new driver.
Hamilton replaced Michael Schumacher, who retired as a direct result of the Englishman's deal.
The shake-up is a reflection of how seriously Mercedes is taking the under-performance of its F1 team.
They took over the Brawn team at the end of 2009 - the year they won the drivers' and constructors' title double with Jenson Button - but have won only one race in three years and ended last season struggling even to score points.