Mark Webber reacts to Red Bull chief Helmut Marko's criticism

By Andrew Benson
Chief F1 writer
Last updated on .From the section Formula 1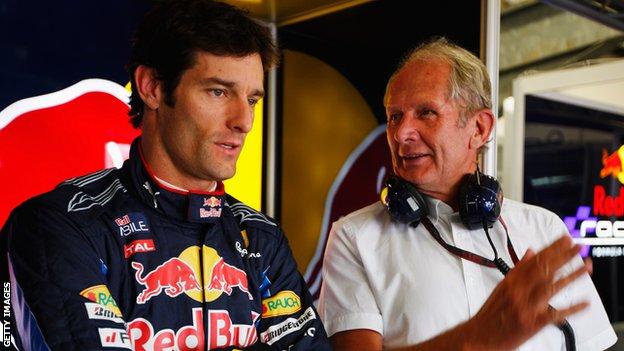 Red Bull's Mark Webber says he is not part of the "agenda" of the company's motorsport chief, Helmut Marko.
Webber said: "Look, everyone at this level has their own agendas and it's been evident for a long time now that I've never been part of Marko's."
Marko also accused Webber of "falling easily into a downward spiral".
Red Bull's motorsport adviser, who is the right-hand man in F1 of the company's boss Dietrich Mateschitz, unflatteringly compared Webber to his Red Bull team-mate Sebastian Vettel, who won his third consecutive title last season.
Marko said: "It seems to me that Webber has on average two races per year where he is unbeatable, but he can't maintain this form throughout the year. And as soon as his prospects start to look good in the world championship, he has a little trouble with the pressure that this creates.
"In comparison with Seb's rising form, it seems to me that Mark's form somehow flattens out. Then, if some technical mishap occurs, like with the alternator for example, he falls relatively easily into a downward spiral.
Webber's brief response to Marko's comments, which were published in Red Bull's own magazine, came in an interview on the 36-year-old's own website.
Webber has always had a strong relationship with Mateschitz and in the interview he revealed that he spent the New Year at the 68-year-old's private island resort in Fiji.
After spending the winter in Australia, Webber is back in Europe ahead of the launch of the new Red Bull car on Sunday.
He said he was expecting "another exciting and challenging season ahead".
Webber added: "It'll be interesting to see who comes out of the gates strongly; you might get an inkling from pre-season testing to the form book but it's only when we arrive in Melbourne for the first race that the gloves really come off.
"I'm certainly looking forward to getting my hands on the RB9 and I also have a new race engineer in Simon Rennie (formerly of Lotus).
"It's going to be important to have a solid pre-season with him after spending some six years with Ciaron Pilbeam who I had a long and enjoyable relationship with but he's no longer with the team (having moved to Lotus).
"I'm looking forward to starting the season in Australia having prepared very well for it over the past two months. But it's clear there's no point getting too far ahead of yourself, so it's a case of taking each week, test and race as it comes."
Over the winter, Webber had an operation to remove a titanium rod which had been in his right leg since he collided with a car while riding his mountain bike in his own multi-sports challenge event in Tasmania in 2008.
Webber said: "I had the final procedure on my right leg at the start of December to remove the remaining piece of metalwork, a 40cm titanium rod.
"The surgery went very smoothly and my recovery was exceptional. I had a few weeks off from my normal training schedule but I was able to ease myself back into it by the first week of January and now I'm back into it properly.
"I didn't really know what to expect from having it removed, apart from my own peace of mind, but I'm very happy that some of the niggles and pain I've sometimes experienced with my training over the past three years already seem to be a thing of the past."