Ferrari don't dare to dream, but they do expect

By Andrew Benson
Chief F1 writer
Last updated on .From the section Formula 172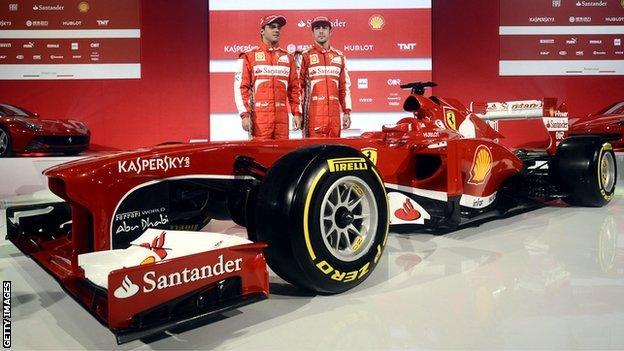 The flat industrial plains of Emilia Romagna were shrouded in fog, as they so often are at this time of year, but inside the Ferrari factory there was only clear-eyed determination at the launch of their new Formula 1 car.
Indulging, as they must, the usual long, florid expositions from president Luca di Montezemolo, the members of the F1 team had their feet firmly planted. Coming up short again, they know, is not acceptable.
Fernando Alonso, always a self-contained character who measures his words with care in public, was pointedly avoiding any of the usual F1 launch optimism and kept his comments "punto" - to the point.
The man who has come so close to the title in two of his three years at Ferrari so far, only to miss out agonisingly at the death to Red Bull's Sebastian Vettel, was talking only in certainties.
"We don't know how the car will perform yet," he said. Wins will be shared out sparingly and Ferrari must be one of the teams taking them. Yes, coming so close last year hurt but he's over it and ready to go again.
Likewise, team boss Stefano Domenicali left no doubt about what was expected of Ferrari - to have a car that is competitive from the very first race.
In an attempt to achieve that, he made it clear Ferrari had tried to ensure they had focused on the areas of the car that would make a difference to performance - and would push right to the limit of the regulations, Red Bull-style, to find it.
Exactly where on the car that might be is unclear for now. There were some nice touches on the new F138 - particularly a very clean rear end and aggressive aerodynamic shaping leading up to it - but no immediate wow factor, and technical director Pat Fry admitted it was an "evolution" of last year's F2012. How extensive remains to be seen.
"Perhaps what you can't see," Domenicali said, "is the real change has come in the details that go in the direction of going to the extreme and on the track we will see whether we have done well or not.
"The important things is to make available to Fernando and Felipe [Massa] a realistically competitive car. We can't dream of having a car that is fantastically faster than our competitors but we can expect to have one that is equal."
That is where Ferrari fell short last year, when the new car proved catastrophically off the pace at the first test, leading to much head-scratching and reassessment of what had gone wrong.
Di Montezemolo told an amusing story about Massa's first phone call back to Maranello from that test in Jerez 12 months ago. It was, Di Montezemolo said, "quite aggressive - it was a very bad phone call."
"I wanted to tell the truth," Massa said, "and the truth was not good news."
Whatever Ferrari discover in the new car when it takes to the track in Jerez in Andalucia next week, it will again be Massa making the call to the factory. Alonso will not even be there. The team's lead driver will not drive the car until the second pre-season test two weeks later.
This decision has caused much consternation in Italy, with the country's leading sports paper La Gazzetta dello Sport publicly questioning whether it was a good idea.
It led to an amusing diversion in the news conference on Friday, when one of the paper's respected correspondents pointed out that he had been critical and challenged Alonso to "convince me what I said was not stupid".
Cue a big, broad smile from the double world champion. "I've got nothing to say on that point," he dead-panned.
The decision, he said, was simple to understand. Ferrari had initially explained that Alonso would be spending the extra 10 days working on his physical fitness, but the man himself made it clear on Friday that it was more to do with his preparing his mind for the rigours ahead.
Last season had been very long, Alonso said, he had worked at the factory until just before Christmas, then had more engagements in mid-January. He needed the extra time to recover.
"We know the first tests are very generic," he said. "We have to make sure the car brakes and goes straight and does all the normal things. That's what's looked at in the first test. So that was what led up to the decision.
"I will be in a warmer climate but will follow the tests closely with emails and messages and so on and so there will be constant communication. I don't think I am missing out on anything in terms of how the car is being prepared. It wouldn't be possible to arrive at the last race [of the season] in the best shape if I didn't do this now."
There are echoes here of the way Ayrton Senna used to conduct himself in the last half-decade of his career. He would disappear off to Brazil for the winter, return in time for the final test and, refreshed, set a new benchmark for what the car was capable of.
After the official news conference, I took Alonso aside to ask him whether he had modelled his approach on Senna, to whom he had looked up to as a child. "I didn't know he did that," he said, looking slightly surprised.
"I'm [physically] ready to drive," he added. "But this way it's better for the whole year."
Clearly he is steeling himself for a long, hard battle against what may be at least one better car - both McLaren and Red Bull had significant advantages over Ferrari last year and it will be hard to pull them back.
In that sense, Alonso might find he has to match in 2013 the exceptionally high standards he set in 2012, when he produced what stands as one of the all-time greatest seasons by any driver to keep himself in the championship hunt in a car that was never fast enough to set pole position in the dry.
There are reasons to believe Ferrari should be in better competitive shape than last year.
Their temporary abandonment of their own wind tunnel, which was giving confusing results, should ensure consistent development information. A rule change restricting the use of the DRS overtaking aid in qualifying should eradicate one of their car's main weaknesses from last year.
But Alonso is now entering his fourth year with Ferrari, and while it would be easy to argue he has deserved to win two titles already, he has not, and the main reason for that is that the cars he has been given have simply not been quick enough.
When, he was asked, will that first Ferrari title come?
"The sooner the better, definitely," he said, "but I have at least four more years to try as I have a contract for four more years [until the end of 2016] and I have the same objective for four more seasons and then we will see.
"For us, second place is not good enough. Everybody who works here works to win, that's the name of the game, and being second in the drivers' or constructors' championship is something we don't accept."
For him, it is clear, a third title to add to the two he won with Renault seven and eight years ago, is long overdue.