Red Bull launch their new RB9 car for the 2013 Formula 1 season

By Andrew Benson
Chief F1 writer at the Red Bull factory
Last updated on .From the section Formula 1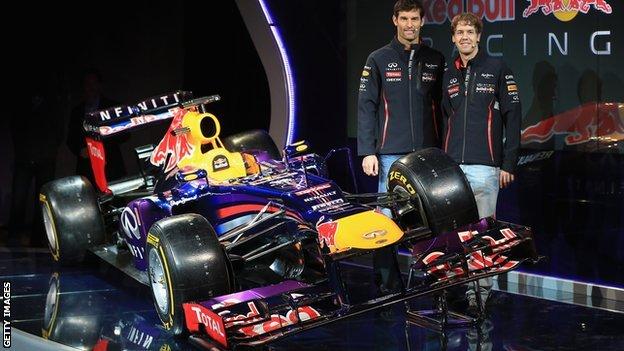 Red Bull unveiled on Sunday what design chief Adrian Newey called an "evolutionary" new car to defend their world championship titles.
Team boss Christian Horner said the team had a "fierce determination" to win the drivers' and constructors' titles for the fourth consecutive year.
Sebastian Vettel, who has won the last three drivers' crowns, said: "It all starts again from zero, same chances.
"It will be a long year again, tough challenges waiting for all of us."
The 25-year-old German, who beat Ferrari's Fernando Alonso by just three points at the end of the longest season in F1 history last year, said he expected to face the usual rivals.
"The best drivers are in the best teams," he said in a news conference at the launch of the new RB9 car at the team's factory in Milton Keynes.
"We are racing against the best teams and drivers and it is easy for you to make out who they are.
"Fernando is one of them. It's not a secret I respect him a lot as a driver and have a very high opinion of him.
"But Mark [Webber, Vettel's Red Bull team-mate] is another, and Lewis [Hamilton, who has moved from McLaren to Mercedes] and so on. I usually don't like to name them because I might forget one."
Webber then leaned over to him and reminded Vettel he had not mentioned McLaren's Jenson Button.
"Jenson," Vettel said with a smile.
Vettel added: "People expect something [from Red Bull] but more than that we expect to do well ourselves. There is a lot of pressure. I'm excited to get back in the car, go racing.
"It will be tough to beat Mark, tough to beat the other guys, the other teams.
"The last three years have been very good for us, we managed to beat them but there is no guarantee that we will keep winning."
The new Red Bull is unusual among the leading cars launched so far in not having a so-called 'vanity panel' to cover the ungainly step that featured on the noses of most of the cars last year.
Last year's Red Bull had a letterbox-style hole which provided cooling for the car's systems and the driver and which disguised the height difference.
But that has gone and the new car features a distinctive step in the area of the front wheels from the height of the tip of the nose to the top of the monocoque chassis.
Newey said the car did have a vanity panel, but that he had used a short one for performance reasons.
"We have a vanity panel but it doesn't extend very far forward otherwise it becomes unjustifiable in weight," he said.
He said that while the car looked outwardly similar to last year's "the devil has very much been in the detail. We tidied up some bits we felt could be improved on. It's a car in transition, as are all the cars - development [through the season] is key."
Webber was asked whether he felt he had the full support of the team, in the wake of criticisms of him by Red Bull's motorsport chief Helmut Marko.
Webber said: "I do believe I can have a crack at the championship again as I have in previous seasons. That is my goal. That is what I am getting up each day and thinking about.
"They know I need 100% support. You can't go for the championship with 90% support. We are going into 2013 with this in place. I'm comfortable with that."
Webber will be driving the car for the first two days of this week's first pre-season test at Jerez in Spain, with Vettel taking over for the final two on Thursday and Friday.
Alonso, by contrast, has chosen to skip that test and not drive the new Ferrari until the second test in two weeks' time.
Vettel said that while he would not choose to do so, he did not think Alonso would suffer from the decision.
"I'm looking forward to driving," he said. "Testing is limited. But I don't think it is a big advantage to have a day more or less. Jerez is different in that it is a circuit you don't race on so I don't think you miss a lot if you don't test there."