Sebastian Vettel's smile provides cover for Red Bull's secrecy

By Andrew Benson
Chief F1 writer
Last updated on .From the section Formula 1110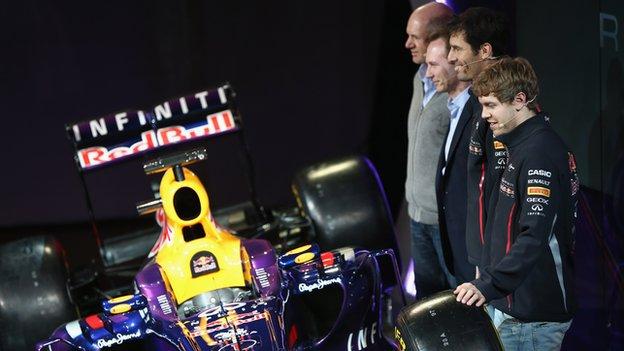 The most eagerly anticipated car of the impending Formula 1 season was unveiled on Sunday, but most came away from the Red Bull launch none the wiser about its features.
Knowing Red Bull, that was almost certainly the idea. The ruthless pursuit of success in F1 that has led to them winning the last three drivers' and constructors' titles is matched - and perhaps enhanced - by an intense secrecy about the peerless cars that have allowed them to do it.
At their workaday-looking Milton Keynes factory, a warehouse had been converted into something that could have passed for a Balearic nightclub - low lights, neon and a thumping soundtrack.
The blue sheet that hid the car from prying eyes until the start of the hour-long presentation and news conference was whisked back into place as soon as it had finished.
And as everyone was sat down for its duration, and photography strictly prohibited apart from by Red Bull's contracted agency, little could be gleaned about the new car.
Red Bull's chief technical officer Adrian Newey, the sport's pre-eminent designer, undoubtedly approved. And he, too, was coy as ever about his latest brainchild's secrets.
The car was "evolutionary", he said. "All the principles are the same as last year but hopefully refined a bit. The devil is very much in the detail. We tidied up some bits we felt could be improved on."
So limited were views of the car that BBC F1's technical analyst Gary Anderson had to wait until he had seen some pictures to come to any conclusions about its features.
Fortunately, Sebastian Vettel was on hand to cheer everyone up, famous humour very much intact after the truncated winter break.
What were his plans for world domination this year, he was asked.
"I'm German but I never said that," he shot back with a smile. "I don't have a moustache."
A little later, the compere announced the news conference was to switch to German for the benefit of television companies from Vettel's home country.
"We are making our secret plans," Vettel said, putting his little finger to the edge of his mouth in the style of the Dr Evil character from the Austin Powers films.
Don't let the lightheartedness fool you. Vettel's easy-going public demeanour disguises a determination and competitiveness every bit as intense as Newey's and success has done nothing to dim his ambition.
He will not admit it publicly, but Vettel is determined to carve an indelible place in grand prix history. Achieving so much so young - he is still only 25 - he effectively already has. But it's not enough for Vettel. He wants more. Much more.
Matching Michael Schumacher's five titles in a row is his next big target. After that, there is his friend's all-time record of seven.
It is in this context that one should view remarks on Sunday such as: "It's one thing to look back at what we have achieved as a team. But it all starts again from zero, same chances. It will be a long year again, tough challenges waiting for all of us.
"I am thinking about that and not what we have done in previous years. People expect something but more than that we expect to do well ourselves. There is a lot of pressure. I'm excited to get back in the car, go racing."
Red Bull will start the season as favourites - how can they not as triple world champions? - but it is not as if there are no questions hanging over them heading into 2013.
There is one big one in particular. Last season was by far the toughest of their three championship years. The car always had good race pace, but for the first two-thirds of the year the team struggled to make it work consistently in qualifying.
They finally unlocked that pace with a major upgrade to the rear of the car around the Singapore and Japanese Grands Prix, which allowed them to generate the downforce Newey had been looking for all year from directing the exhaust gases at the area between the floor and rear wheels.
But this development was unlocked partially thanks to a clever 'double DRS' system, which linked the DRS (drag-reduction system) overtaking aid on the top rear wing element with the lower rear wing element.
That significantly increased the amount of drag that the DRS bled off the car when it could be used - and, in practice and qualifying, use was free.
It meant that Red Bull could finally return to the strategy that had been so effective in Vettel's dominant 2011 season.
They would run the car set-up for optimum pace in qualifying - ie with more downforce without the consequent straight-line speed penalty because the double DRS ensured that more drag was bled off the car on the straights.
That gave the car the pace to be on pole - not least because the more effective exhaust-blowing allowed Vettel to finally drive the way he liked.
Then, although the double DRS could not be used in the race (because then it was only allowed when behind another car in designated zones), Vettel could still control the grands prix from the front with a car optimised for pace.
The result was four consecutive wins, an overhauling of Ferrari driver Fernando Alonso's once-substantial points advantage and the building of a cushion that was just enough even though the Spaniard then out-scored Vettel in the final three races, during which McLaren, not Red Bull, appeared to have the fastest car.
But double DRS is banned this year - and use of the DRS itself has been restricted in qualifying to the zones where it will be allowed in the race.
So in theory Red Bull no longer have access to a technology that was crucial in getting the best out of their car last year, the double DRS.
In the last couple of years, Vettel has proved the nonsense of claims that he cannot race. He's outstanding at it.
Yet it remains a fact that only two of his 26 wins have come when he has not started from the front row. And in those two races, he started third.
For all his immense skills, there is no doubt that Vettel is most effective when he starts from the front. Red Bull, too. It's the fundamental foundation of the philosophy of how they go racing.
What that requires is the fastest car. With Newey in charge of design, that is usually a given. But ahead of this year there are at least some question marks over Red Bull to give their rivals some hope.
Newey being Newey, though, not many would bet against him finding the answers. Even if he won't tell anyone what they are.