Force India's foodie Paul di Resta fitter than ever
By Lawrence Barretto
BBC Sport
Last updated on .From the section Formula 1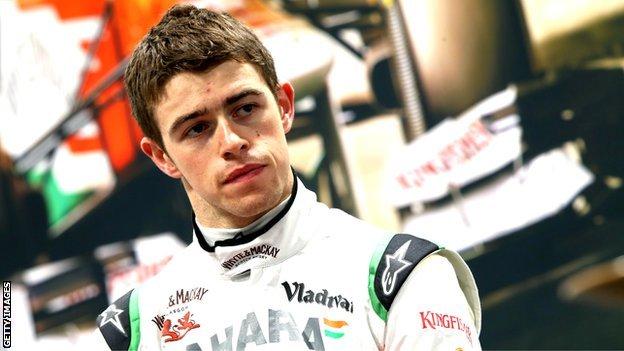 Paul di Resta loves his food.
With the Scot's Italian roots, that's perhaps unsurprising - but at 6ft tall and 11-and-a-half stone, it's a habit the Force India driver needs to keep in check.
"I do love it when good food, especially Italian, is put down in front of me," Di Resta, whose surname derives from Italy via Spain through his grandfather, told BBC Sport.
"But because I'm a bit taller than most, I've got to make sure I manage it with training as your weight can have such a big influence when you're sat in a Formula 1 car.
"So one of the biggest things I've focused on this winter is trying to get the right food inside me."
That's made easier because his girlfriend Laura "enjoys cooking" and "is focused on making sure we do eat well - so I'm very thankful for that".
The 26-year-old, who entered Formula 1 in 2011 after winning the German Touring Car Championship (DTM), says that he does cook, but he's normally confined to one area. "I deal with the grilled meat and fish, Laura does all the other stuff," he said.
The Scot suffered an abrupt end to his 2012 season when he aquaplaned into the wall during the Brazilian Grand Prix.
After being overlooked by a top team, Di Resta, who finished 14th in the drivers' championship last year, headed into the winter with a Force India deal in his back pocket for a third successive year.
Winter of content
With two months between the season ending and pre-season testing starting, drivers don't get much of a break - so making the most of it is key.
McLaren's Jenson Button chose Hawaii as the location for his first marathon and relax with girlfriend Jessica Michibata, while Mercedes new boy Lewis Hamilton headed for a recording studio to lay down a few R&B tracks.
Hamilton's new team-mate Nico Rosberg saw the Rolling Stones in concert, while Bruno Senna watched his beloved tennis stars Roger Federer and Maria Sharapova in action.
There was none of that for Di Resta, though. Aside from spending eight days with family in West Lothian for Christmas, the Scot only had one focus - training.
"I did 27 days training out of 31 in January," said the Monaco resident. "So I think that's quite a decent effort.
"It's all about my health now. I've never struggled in an F1 car - I had my best finish in the hardest grand prix of the year (fourth in Singapore) but I felt quite fresh at the end of it - but I still want to improve.
"I think it's just about managing your time - and my life seems to be running better."
Since Brazil, his mornings have consisted of four hours training, which involved cycling, swimming, rowing or running, but you won't find him with a racket in his hand or a ball at his feet.
"Sports like that can sometimes turn a bit too professional, a bit too quickly and you'll soon find yourself in trouble," he smiles. "I try not to play those kinds of sports from a safety point of view."
He then has some time to see friends for lunch, check emails and start booking flights and planning his life before a heavy gym session at 1700 every day.
"Gerry [Convey, his trainer] will absolutely beast me in the gym, but waking up with pain is what it's all about and it's kind of become immune to me."
Then it's early to bed so he can start early "because I'm not a lie-in type of person". It seems to be working, too. Di Resta is looking the leanest he's ever been since joining the sport.
"I've stepped it up and now got to the point when I can push myself beyond where I could ever have pushed it," he said.
If all the hard work pays off, a celebratory Italian feast would be very much deserved.