Sauber optimistic on Hulkenberg-Gutierrez pairing at car launch

By Andrew Benson
Chief F1 writer
Last updated on .From the section Formula 1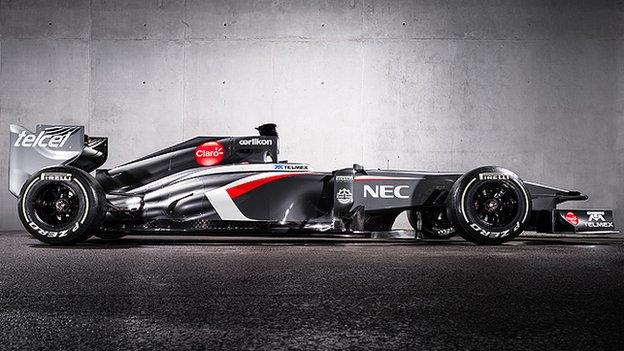 Swiss team Sauber have unveiled their 2013 Formula 1 car with the ambition of improving on last year's performance.
Sauber finished on the podium four times last year, their best ever record, but were sixth in the constructors' championship.
Team principal Monisha Kaltenborn said she hoped the line-up of German Nico Hulkenberg and novice Mexican Esteban Gutierrez would improve on that.
"We have very high expectations and both of them know that," she said.
Sauber believe Hulkenberg, in particular, will be more effective at delivering the full potential of the car over a season than predecessors Sergio Perez and Kamui Kobayashi were.
Perez, who is now at McLaren, scored three podiums in 2012 and Kobayashi, now without a drive, one. But Sauber felt they had not maximised the potential of what was one of the year's more competitive cars.
Hulkenberg, 25, led the season-ending Brazilian Grand Prix for a considerable distance for Force India before colliding with McLaren's Lewis Hamilton and dropping to fifth place.
Kaltenborn said: "We have two young, very fast and talented drivers.
"As for Nico we have been watching him last year and we know well how fast he is.
"We think he is a very efficient driver which means if he gets the opportunity he takes it and brings the result home."
On Gutierrez, who has been promoted from reserve driver and owes his place to the team's Mexican sponsorship portfolio, she said: "We feel it is time to bring him into F1 and I am confident Gutierrez will contribute to the success of the team."
Hulkenberg said: "Of anyone here probably my own expectations are the highest, that's part of the job. It's an exciting time and I'm just looking forward to getting to Melbourne."
Gutierrez said his ambition for his maiden season was "to be consistent at a high competitive level".
Sauber have abandoned last season's predominantly white livery in favour of graphite grey with flashes of white and red.
The new car, unveiled at the team's base in Switzerland, has a number of intriguing design features.
New rules this year allow teams to fit a 'vanity panel' to disguise the step on the top of the chassis which most had last year as a result of height regulations.
But while McLaren and Ferrari, who launched their cars on Thursday and Friday, have chosen to use the cosmetic faring, Sauber have what chief designer Matt Morris described as "something in between".
The top of the nose still has a step in it but not across its whole width - the sides of the top of the nose feature ridges which mean the step is not visible from side-on.
The car also features smaller sidepods and a change to the way Sauber are trying to use the exhaust gases for aerodynamic effect.
Last year they had a design similar to that on the world title-winning Red Bull, with bodywork swooping right back to the rear tyres to guide the exhaust gases into their optimum area where the floor meets the rear wheels and tunnels beneath that bodywork to guide airflow to the diffuser at the back of the car.
This year, they have adopted the approach taken by McLaren and Ferrari, with the exhausts in bodywork bulges at the back but no flattened bodywork beyond them.
Sauber have retained conventional push-rod front suspension rather than, like McLaren, following Ferrari's change last year to pull-rod, which has small advantages in aerodynamics and centre of gravity.