Williams and Caterham exhaust designs deemed 'illegal'
Last updated on .From the section Formula 1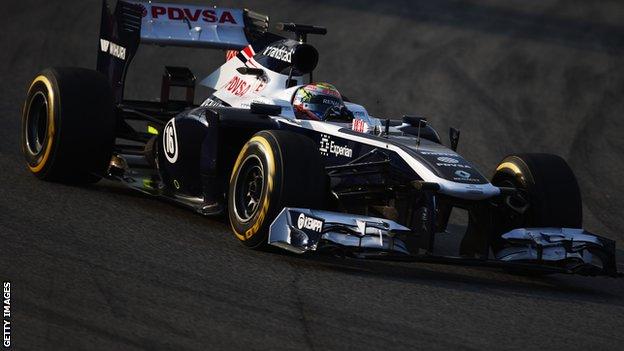 Williams and Caterham have been told by Formula 1's governing body, the FIA, that it considers the exhaust designs on their cars to be illegal.
The two teams have added extra bodywork rear of the exhaust to help enhance the way the gases work for aerodynamic effect, a key F1 technology.
But the FIA has told both teams it believes the designs contravene the rules governing bodywork in that area.
Williams and Caterham both say they are evaluating the situation.
A Williams spokeswoman said: "The team spoke with the FIA this morning which is when they gave us their view.
"The team are now seeking further clarification on this and a decision as to whether this design will be carried forward will be made before the first race."
A Caterham spokesman added: "We are continuing to evaluate a range of options at the pre-season tests as per our normal program."
The controversy surrounds the area of the car rear of the exhaust exits, which is strictly controlled in an attempt to reduce the teams' ability to harness exhaust gases to increase aerodynamic downforce.
Lotus technical director James Allison said two weeks ago that he did not expect Caterham's design to survive until the first race.
The rules dictate that exhaust gases may not be redirected. But all teams are doing so to some extent, placing open-topped channels after the exhaust exits that are designed to control the gases through something called the Coanda Effect, which dictates that gases travelling along a surface will tend to stay attached to it.
The issue with the Caterham and Williams is that they have taken differing approaches to trying to direct the gases more extensively.
Caterham have placed a small 'turning vane' (aerodynamically shaped piece of bodywork) in the channel, while Williams have almost totally enclosed the channel at one point, leaving just a tiny slot at the top.
Williams technical director Mike Coughlan initially told the media at the launch of the team's new car on Tuesday that he believed Caterham's design was "clearly not allowed" whereas his own team's design was.
Williams have now been forced to reassess the situation following the intervention by the FIA.
The governing body's stance means that the teams would risk being disqualified if they ran their cars in that specification at the first race in Melbourne, Australia on 15-17 March.
But the teams can continue to run them in testing because it does not count towards the world championship.