Lewis Hamilton happy Mercedes 'heading in the right direction'

By Andrew Benson
Chief F1 writer
Last updated on .From the section Formula 1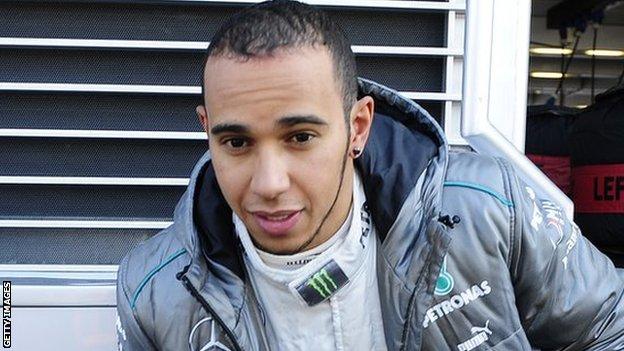 Lewis Hamilton said his Mercedes team were "going in the right direction" after his first day of action at the second pre-season test.
"We're not focusing on anyone else; we're just looking at our programme to try to make steps forward with the [tyre] degradation and set-up," Hamilton said.
"It's going in the right direction."
He added: "I'm really happy with it; 121 laps is really good."
Hamilton set his best time on the 'hard' tyre, whereas Perez, who replaced Hamilton at McLaren, used the 'soft' tyre, which is more than a second a lap faster, as did Red Bull's Sebastian Vettel, who was second fastest, 0.529secs ahead of the Mercedes.
But as teams do not reveal the fuel loads the cars were using it is impossible to directly compare the lap times.
Although an analysis of the lap times suggests the Mercedes is reasonably competitive, Hamilton said the team still "have a lot of work to do".
"I have a great group of guys behind me," he said. "I see fantastic determination and effort going in and I really hope all that hard work and effort pays off."
Asked for his realistic target going into the season, Hamilton said: "To finish races and get into the points."
Hamilton, like all the drivers, said he was struggling with high levels of tyre degradation.
Tyre supplier Pirelli has deliberately tried to make the tyres 'go off' faster this season to try to ensure there are at least two pit stops per race.
Hamilton said: "All the tyres are having degradation so looking after them is not that easy, but that's normal."
The tyres traditionally suffer heavier wear in the cooler conditions of pre-season testing but improve in the warmer conditions at races.
Perez said: "The degradation is very difficult. It is a big surprise.
"Normally in winter testing we see a lot of degradation but never this much. We are still learning about the tyres and I think once we go racing I hope things can change about the tyres.
"The tyre is basically very weak and there is very little the driver can do. It is a big concern at the moment but we are still learning about the tyre.
"The tyre is difficult to do two or three laps with. Once you do a lap you start fighting the degradation so it is difficult to learn anything from the car and the balance."