Jenson Button says McLaren are still getting to know their 2013 car

By Andrew Benson
Chief F1 writer
Last updated on .From the section Formula 1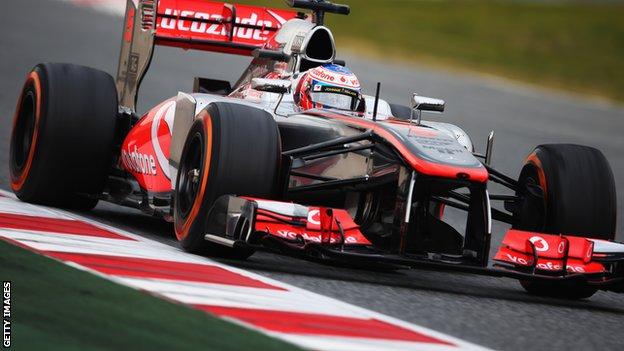 Jenson Button says McLaren are struggling to get to grips with the new car that carries their World Championship hopes this season.
McLaren chose to make more overall changes to their car's design philosophy than other teams in an attempt to ensure better performance.
But Button says this means the team are still trying to establish how it works.
"It's been very difficult to understand where the car is. At times it feels good; at others it doesn't," he said.
"A lot of that is basically understanding the way it's working and making sure it's working the way we expect it. Some of the time that hasn't been the case. That's why it's been a tricky winter so far.
"But there are times when the car's working pretty well."
Button, 33, set the seventh fastest time on the penultimate day of the second of three pre-season tests on Thursday, about a second slower than the pace-setting Ferrari of Fernando Alonso.
Because Briton was on 'hard' tyres while Alonso was on 'softs', however, Button's lap was more competitive than the headline times suggest.
But, compared to leading rivals Red Bull and Lotus, the McLaren did not look as competitive when Button was running with higher fuel levels later in the day.
Button's team-mate Sergio Perez led the times on Wednesday.
Button said: "Today on hards I did a one minute 22.8 seconds, which I don't think is a bad lap with the fuel that we had on board. And [my team-mate] Checo [Perez] did a 1:21.8 on softs yesterday (posting the fastest time of the day), which is also pretty good.
"At Jerez (at the previous test) we showed pace, but we also showed that we don't have pace at other times.
"We don't know where we are and there's no point trying to compare us to other people. We've got to sort out our own issues and get the best out of the car."
Button said McLaren were paying for their decision to make significant changes to last year's car concept rather than taking a more evolutionary approach as other teams have, particularly Red Bull and Lotus.
But he said it was the right decision because it meant the car had greater long-term potential.
"If we started this year with last year's car with a few changes to it, and we'd developed that car into 2013, I think we could have started with a very good car at the first race," he said.
"Whether it would be better than the [new car for 2013] MP4-28, I don't know. I think it would be a very strong car.
"But I think after three or four races you would realise that you're at the end of the development curve with it.
"For us, it was important to change the car over the winter so we could see a new development direction over the course of the year.
"It's a long season at 19 races. It's about being strong over the whole season, not just the first couple of races.
"I am still hoping that we are competitive in Melbourne. It's a circuit I love and where I've gone well for several years.
"But there's a possibility that teams that kept the same car as last year and just developed it could also be strong."