Lewis Hamilton admits Mercedes not capable of winning races yet

By Andrew Benson
Chief F1 writer
Last updated on .From the section Formula 1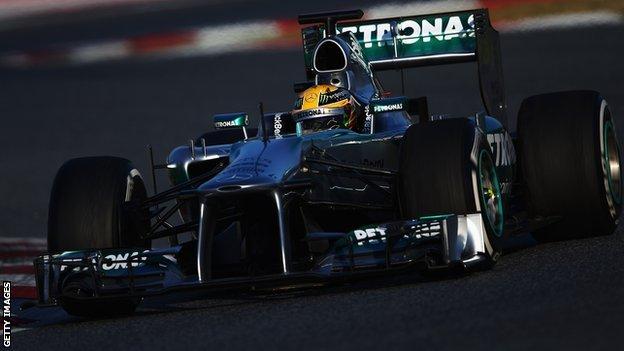 Lewis Hamilton says his Mercedes car will not be fast enough to compete for victories at the start of the season.
The Englishman said on the final day of the second pre-season test that the team still needed to find aerodynamic performance to compete with the best.
Hamilton said: "We're not looking at wins at the moment. We're hoping to get into the points and fight for top 10.
"It's not fast enough to be quickest over one lap but it's not slow, that's for sure."
Ferrari driver Fernando Alonso predicted last month that Hamilton would win races with Mercedes this season following his move from McLaren.
But Hamilton, while admitting wins were "not impossible", rejected the notion that Mercedes would be able to compete at the front at the start of the season in Australia on 17 March.
"People are talking us up at the moment - [Sebastian] Vettel and Fernando saying we're going to be competing for the world championship... Well, I really don't see that happening at the moment," Hamilton said.
"Of course that's our goal. But you've got to remember the car was more than a second off, sometimes two seconds off, last year and we've not caught two seconds up, and the new teams will have put another second on this year and we've not caught up three seconds. That's just a fact.
"Hopefully by the end of the year we will have gained three seconds but definitely not at the beginning."
He repeated his analysis from the first pre-season test two weeks ago that aerodynamics were the Mercedes' biggest weakness.
"We need more downforce, that's the name of the game at the moment," he said.
"We need to improve the reliability in some areas, sensors and that, but otherwise we just need as much downforce as we can."
And asked whether the 2013 Mercedes was yet as good a car as the McLaren he drove last year, Hamilton said: "No. The downforce factor is what everyone's pushing on.
"The team has won a race so they have clearly not such a bad foundation in terms of the mechanical side of the car but it's downforce where we need to improve."
Mercedes started last season strongly, but slipped from the pace in the second half of the year. By the end of 2012 they were struggling to score points.
Hamilton said: "Sometimes people lose their way and it takes a group of people to put the train back on its tracks. We have lots of great people doing that and I think we are now rolling in the right direction."