Lotus not expecting to be slowed down by engine controversy

By Andrew Benson
Chief F1 writer
Last updated on .From the section Formula 1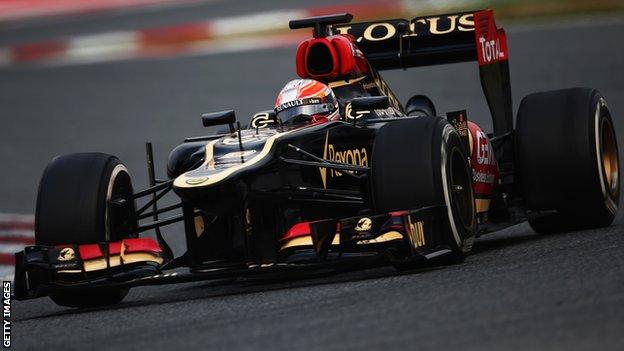 Lotus have dismissed a controversy over engine settings that has broken out in advance of the final pre-season Formula 1 test as trivial.
Renault, engine supplier to Lotus and world champions Red Bull, have been told by governing body the FIA they cannot use new settings they designed.
It has been claimed these might explain Lotus's strong pre-season form.
But Lotus trackside operations director Alan Permane said: "[The suggestion] it will slow us down is nonsense."
Engineering boss Permane said Kimi Raikkonen and Romain Grosjean had both tried the controversial maps briefly at the second pre-season test.
"Renault had come up with some alternative engine maps to try," he said. "They talked to the FIA about it but [race director] Charlie Whiting didn't want us to use them.
"Kimi has used the new one once on an installation lap and hated it. Romain used it in the wet last week on the final day and it finished up OK. But all his running in the dry has been without it.
"It is about partial and full-throttle blowing and modifying maps to get more or less of each, but the amounts [of advantage] we're talking about are tiny. To suggest it will slow us down is nonsense."
The row is rooted in a rule change made after last year's German Grand Prix, when Red Bull were found to be using engine maps of which the FIA did not approve.
Engine maps are the computer settings that control the amount of torque delivered by the engine in various conditions.
The ones designed by Renault enhanced the way the team could use the exhausts for aerodynamic effect by the use of what is known as "on- and off-throttle blowing".
This blows the exhausts over aerodynamically sensitive pieces of bodywork to increase downforce.
The FIA issued a clarification last summer that banned the relevant Renault maps but the French company felt the rule changes might only apply to last year.
The sport's governing body has told them that is not the case - Whiting made it clear that all rules clarifications always stay in force until they are either drafted into the regulations or superseded.
Mercedes team boss Ross Brawn has been quoted by Germany's Auto Motor und Sport saying that Lotus and Red Bull's rear bodywork solution was not as effective without exotic maps as those of their leading rivals, who have all chosen a different design similar to each other.
Brawn said he thought Red Bull and Lotus were compensating for that "by a clever engine management system".
Permane said: "For Ross to talk about it like that is utter rubbish."