Lewis Hamilton plays down Mercedes season expectations

By Andrew Benson
Chief F1 writer
Last updated on .From the section Formula 1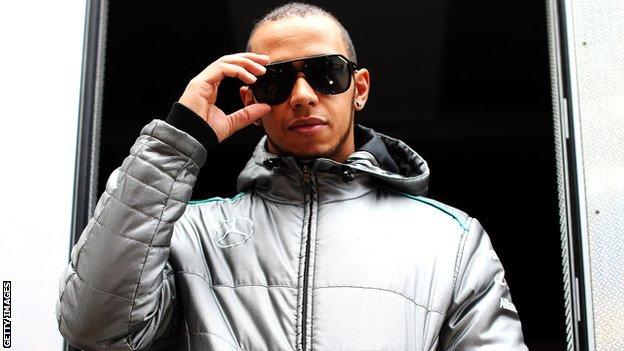 Lewis Hamilton does not expect Mercedes to start the new Formula 1 season at the front of the grid, but admits he is deliberately playing down expectations.
Hamilton says his new team were so far behind by the end of last year that it is not "realistic" to expect them to be able to win races immediately in 2013.
"Anything positive that happens is just going to be a bonus," the Briton said.
"The guys have given it their best shot. To build them up and disappoint them, I don't want that to happen."
Hamilton pointed out that Mercedes had slipped a long way from the pace by the end of last season.
"Last season we were two seconds off the McLaren I was driving and Red Bull, and in the last race in qualifying it was 0.9 seconds," he said.
"McLaren have probably added a second or a second or a half, so that's 2.5 to three seconds the team has had to gain in the same period. You have to weigh it all up and think that's possibly not achievable."
He added: "I really have been impressed by what I've seen so far and I'm so excited to get to the first race and no matter where we finish I feel we've come a long way in a short period of time."
Hamilton was speaking in a BBC Radio 5 live interview in which he was asked if he was deliberately trying to keep expectations in check.
The question was prompted by the fact that while Hamilton has been playing down the performance of the Mercedes, both he and team-mate Nico Rosberg have set lap times that look competitive in pre-season testing.
Hamilton said: "I feel it's going really well. I'm really happy with the progress we're making. For me being in a new car coming to grips with a new mechanical balance and new processes, I'm really happy with how that's going. So far it's going quite smoothly.
"The final touches don't come until qualifying in Melbourne and everyone has their upgrades, because here we don't know what fuel people are on, but I definitely feel we have work to do."
Asked what his expectations were in terms of where he might finish in the championship, he said: "I'm less focused or concerned about my position personally in the championship, I'm more focused on wanting to help the team be higher.
"We were fifth last season and I want to finish ahead of Ferrari or McLaren or all of them if we can.
"I want to see us develop and improving through the year which they have struggled with in the past, they have been maybe a little bit lost.
"If they are on the right road all the way through it will be great to see what they are capable of. I really want to stand back and wait and watch that journey."
Asked if he would like to finish ahead of McLaren to prove wrong those who had criticised his decision to switch teams, he said: "[I'm] definitely not putting that out there.
"That is a fantastic team and they have been developing that car for the last few years. I was a part of the process of where the car is today.
"They are going to be great so to beat them will be a huge challenge and if we at all beat them that will be a huge positive for us.
"But we're definitely not going to the first race thinking we are going to be challenging the McLarens. We are going to hope to be in the top 10 and if we are higher than it's going to be great."