David Coulthard: Hamilton & Rosberg both need to show they are top dog

By David Coulthard
BBC F1 co-commentator
Last updated on .From the section Formula 1
Last year was an amazing season - with Red Bull's comeback, Ferrari refusing to give up and so many different winners - and the championship battle just came alive.
We want to see all of that again, we want to see the emotions, the highs and the lows, great sporting behaviour, brilliant wheel-to-wheel action. We want to be entertained over the course of the year and, judging by the depth of talent on the grid this year, I don't think we'll be disappointed.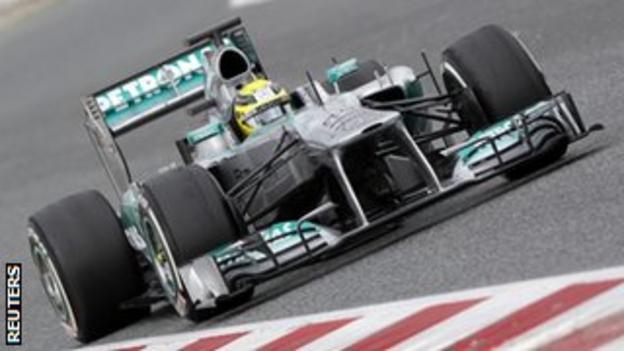 This season, the cars are an evolution - with a major rule change coming in next year - so I expect the field to be close. It's tough to get an idea of the pecking order from pre-season testing so give it three grands prix and then we can start to build up a picture.
Red Bull are reigning champions, so you'd expect them to be up there along with Ferrari, McLaren, Lotus and Mercedes. Then you've got teams like Williams, Sauber and Force India who showed last year that they are capable of springing a surprise. The season is perfectly set.
Pole position in the season opener in Australia will come down to fractions of a second. Melbourne is a unique track, in that, if you do get it all hooked up, especially in the last sector, you can really unleash a lap time. So Saturday afternoon should be pretty exciting.
With the tyres looking so unpredictable for the teams there will be a lot of making it up as they go along, which is ironic in such a technically exact sport. The bottom line is that, come race day, it is man and machine reacting to what nature gives them. Whoever deals with the conditions best will win, and deservedly so. The chequered flag doesn't lie.
Rosberg v Hamilton
It's going to be interesting to see how the partnership between Lewis Hamilton, 28, and Nico Rosberg, 27, at Mercedes develops during the season. They have known each other a long time - since their karting days - and as kids used to play together on [Nico's father] Keke's boat.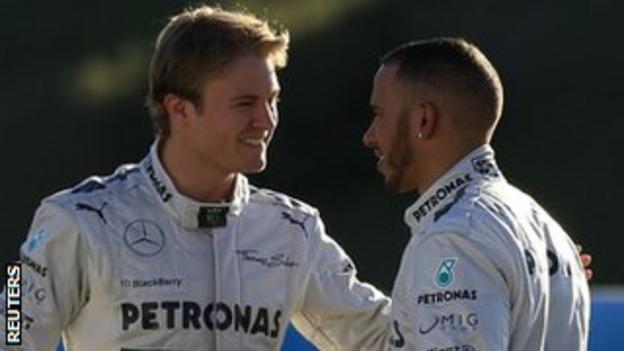 Rosberg is certainly the lesser known of the two as he's not had such public highs and lows as Hamilton, having secured one win from 128 starts since making his debut with Williams in 2006.
By contrast, Hamilton has had the high of winning world championship in 2008 and lows of missing out in 2007, and in each of the last four years. When you're at the sharp end, the pressure is so much more and it can be tough to deal with - just take world number one golfer Rory McIlroy walking off the golf course the other day.
If they are both driving to their maximum, they will meet each other on the race track - we saw Hamilton and Jenson Button coming together in Canada in 2011 - it's going to happen. You have to try and respect your team-mate but at end of day, they both need to show they're top dog.
What a team will always respond to is speed - so whoever is quicker, the team will naturally move towards them. So Rosberg has got to be the fastest and really use his knowledge of the team to drive development to his needs if he is to challenge Hamilton.
If he's struggling with understeer, he needs to drive the team to fix that problem because it's completely reasonable that Hamilton might complain about the rear and the team can't develop both directions. It's a great opportunity for the German to show that he is not only a great racing driver but also that he's got the work ethic we've seen in [past] world champions.
The new Hamilton
I think Hamilton's move to Mercedes has already helped him grow. He is at his best when it is just him being him. Hamilton is not at his best when he is told what to do. You have to walk a fine line of representing a team in the best light but also be entertaining and not just another manufactured driver.
I expect him to be competing at the front end, challenging for victories. Would I be surprised if he wins the world championship? Yes I would, but then who thought Button would win the title with Brawn in 2009?
There is no reason why the team couldn't have come up with something to exploit the regulations and tyres. What I have learned from my time in F1 is if you can imagine it, it can happen.
A dark horse
I hope it is Paul di Resta and Force India. That combination has shown real potential over the last couple of years and I don't think his talent has yet been fully recognised.
Di Resta raced alongside Vettel in Formula 3 - and beat him - and also won the German Touring Car Championship (DTM) which I know from experience is a very tough and competitive series.
He has got the key ingredient - outright speed - that you need to succeed but he has not always had the opportunity to show that. He needs the team to have a consistent platform of performance.