McLaren will take risks and not obsess over reliability during 2013
By Lawrence Barretto
BBC Sport
Last updated on .From the section Formula 1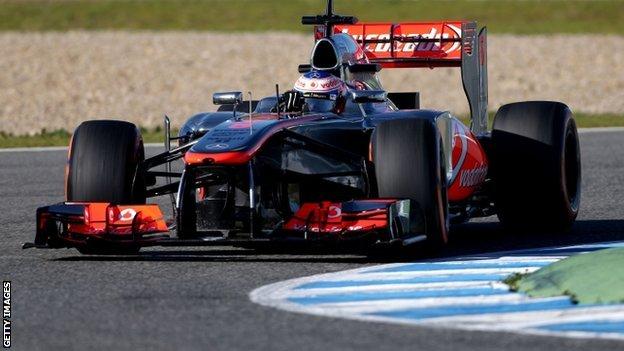 McLaren say they will not become "obsessed" with reliability and will focus on taking risks in the pursuit of the world championship.
This year, McLaren have chosen a "new and uncompromising design", admitting it will take time to understand.
"We've made a lot of changes to the overall package in the belief you have to be competitive over 19 races," said McLaren team boss Martin Whitmarsh.
"We've taken some risks in changing the car from last year. We finished 2012 with the quickest car and it would have been very easy to continue to develop that car and make it quicker still.
"You have to constantly develop the car over the course of the season - and we've given ourselves a platform to do that."
Last season, Lewis Hamilton and Jenson Button's title charge was derailed by a series of operational and mechanical issues, with the former choosing to quit the team he had been with since he was 14 for Mercedes.
While the 2013 challenger shares a resemblance to its predecessor on the outside, under the skin, both Button and new McLaren recruit Sergio Perez stressed that a lot has changed.
Whitmarsh said that while the team have been working hard to fix a lot of the reliability issues which they struggled with last year, a new car will bring a new set of challenges.
"You can never be as confident as you'd like to be with a new car," he said. "If it's stable and reliable, typically you want to push it further, make it quicker, lighter and more aerodynamic.
"We've been working hard with [engine supplier] Mercedes-Benz on some of the issues we saw last year, and we've been working internally as well.
"We are constantly vigilant but we must not become so obsessed by the pursuit of reliability that we don't change the car to improve it."
The team have had an up-and-down winter with rivals suggesting McLaren are a little behind Red Bull, Ferrari, Mercedes and Lotus after the three pre-season tests.
But Whitmarsh said McLaren, who have not won the drivers' title since 2008 or the constructors' title since 1998, were not too concerned.
"On the last day, Jenson did a relatively good long run, so that was encouraging, but the truth is that testing is difficult to read," he said. "We believe the new Pirelli tyres will be a bit more challenging than those that we've had recently in terms of grain and wear but it's the same as everyone."
Whitmarsh added that he spoke last week to former technical director Paddy Lowe, who is on gardening leave before joining Mercedes next year, and will do so again on his return from Australia with the view of continuing to use his expertise this season.
He said: "The beauty is that there are quite big areas of this year's regulations which are completely not applicable going forward so I would hope we will get him involved in some of those challenges."