Australian GP: Fernando Alonso expects open start to season

By Andrew Benson
Chief F1 writer in Melbourne
Last updated on .From the section Formula 1128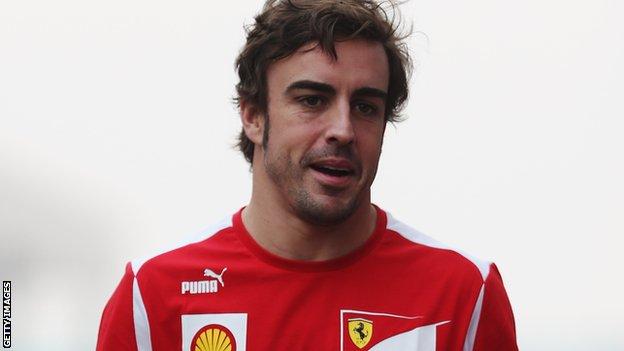 Ferrari's Fernando Alonso says any one of 10 drivers could win Sunday's season-opening Australian Grand Prix.
The Spaniard said the five top teams were "very close" and it was "difficult to know" who was in the best shape.
"Mercedes, McLaren, Ferrari, Lotus and Red Bull showed potential in testing. Difficult to choose," he stated.
The two-time world champion said he did not expect this season to begin like 2012, when seven drivers from seven teams won the first seven races.
"No-one knows who can win this race at the moment," Alonso continued. "We need to wait and see and answer some questions that winter testing didn't answer.
"It will maybe not be the same as last year with mixed results.
"I expect the five top teams to have a little advantage and not to have many surprises in the first races.
"But from these five top teams it is really difficult to see who has the extra two or three tenths that can make you win. It is very close."
Alonso missed out on the title by only three points last year despite Ferrari starting the season with an uncompetitive car after a troubled pre-season.
He said the team were in much better shape ahead of this season, which starts on the Albert Park track in Melbourne.
"We are happy with the job we did this winter," Alonso said. "We arrive here with 100% of the potential of the car. Hopefully it is enough to be competitive.
"I like this circuit a lot and I have always been very comfortable here with good performances so these first races can be a good opportunity to score some points but I don't know how quick we can be."
He admitted that narrowly losing out to Red Bull's Sebastian Vettel in two of the last three seasons had increased his determination to succeed this season.
"Sure, we lost two times in last three years and we want again to fight and hopefully change the final result," he said.
"But this is the normal thing for sport, to give extra motivation for me and the team to have a happy result at the end."
Vettel has won the last three championships but he said he was just as determined to win again this year as he had been in the past.
"If there is a secret, it is not to think about the last three years," Vettel said.
"The first title was very special. After that, you don't have that pressure any more.
"Everyone has the same opportunities. Last year it was very close and I expect it to be the same as last year if not even closer."
Mercedes grabbed the headlines with the fastest times on the final two days of pre-season testing at the beginning of this month, but driver Lewis Hamilton warned not to "take too much" from that.
Hamilton said moving from McLaren had "put me in a better place". He admitted Mercedes, who struggled in the second half of last season, had "made some progress but we still have some work to do".
Lotus driver Kimi Raikkonen, who finished third in the 2012 championship and whose team have looked in good shape in testing, said he expected to start the season in the same position as Lotus did last year, fighting for top-six grid positions.