High spirits and air of anticipation surround season opener

By Andrew Benson
Chief F1 writer
Last updated on .From the section Formula 154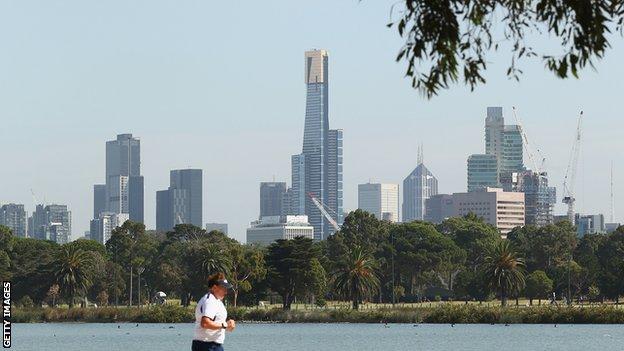 The cloudless blue skies above Melbourne's Albert Park matched the sunny mood as the Formula 1 paddock quickly fell back into the old routine at the first race of a new season on Thursday.
The same exhausted faces that finished last year's marathon 20-race season in Brazil nearly four months ago were all fresh smiles in Australia as they prepared for the curtain to come up on a season that promises much.
Part of the general bonhomie is the location itself. Melbourne might be a long way to come but once you get there it is, as Jenson Button says: "A great first race. The fans are enthusiastic, the whole of the paddock are excited to be racing again and it's such a beautiful place."
The usual political rows about the value of the grand prix to Melbourne and the state of Victoria may be rumbling on in the background as always, but there is no faulting the effort the organisers put into this race.
Ambling into the circuit through autumnal Albert Park on Thursday, there is much from which other F1 venues could learn, including family areas, where pre-school kids play on car-themed bouncy castles as their older brothers and sisters race on junior karts next door. The next generation of F1 fans are already being groomed.
Come Sunday, the current one can expect to see a classic Australian Grand Prix, if all the pre-season predictions are correct.
If anything, the anticipation ahead of this race is even greater than normal at the start of a new season, for two reasons - everyone seems more than usually unsure about where they stand and it is genuinely too close to call.
Speaking to engineers from two different top teams, both came to a similar conclusion - it is very hard to split the top five teams of Red Bull, Ferrari, McLaren, Lotus and Mercedes.
Ferrari's Fernando Alonso backed up that impression when he said he felt any one of 10 drivers could win on Sunday - in other words, anyone from those teams.
And that merely emphasises perhaps the stand-out on-track story of the year so far - the huge progress made by Mercedes.
They - and therefore Lewis Hamilton - seem to be genuine contenders right at the front. One engineer even said he felt that, judging from pre-season testing in Barcelona, Mercedes might even be a little clear of the rest, with Red Bull/Ferrari/Lotus in a group behind and McLaren a little off that pace.
Button admitted that, were the first race in Barcelona in European winter temperatures, McLaren would be worried. But it's not. Melbourne is a different track in very different weather, even if rain is forecast for Saturday.
"If you look at testing times, there are certain times we definitely couldn't have done," Button said.
"We're not too worried. We just have to get out there and see what we have. We're just excited about getting out there and seeing where we stand. It will be mixed conditions so that will be difficult."
McLaren was the centre of attention off the track, too.
The revelation - by BBC Sport last week, and not yet officially admitted - that Honda is returning to F1 as their engine supplier in 2015 was a hot topic, as was the news that mobile phone company Vodafone is to end its entire involvement in F1 at the end of the year, including its title sponsorship of McLaren.
If it is true - as the Times reported on Thursday - that the real reason for this was because of the company's unhappiness at F1's continued involvement in troubled Bahrain, that may give even the more blinkered of the sport's power brokers pause for thought.
Meanwhile, there have been eye-catching proclamations from two of the most prominent figures in the sport.
Red Bull boss Dietrich Mateschitz has this week said that he would let Sebastian Vettel leave the team for Ferrari should he want to in the future, even if that meant his breaking a contract, which the team have said runs to the end of 2014 but is understood to have been extended until at least 2015.
"If it would not work out with us anymore it would be senseless to try to keep him just because of a valid contract," said Mateschitz.
"If I were an F1 driver, my desire would certainly be to become a Ferrari driver. But right now this is no issue."
The eve of a season in which Red Bull's favoured son and the team are going for a fourth consecutive drivers' and constructors' title double seemed an odd time to raise this issue again, given that the stories about Vettel potentially moving to Ferrari in the future seemed to have been finally put to bed recently.
Meanwhile, Ferrari president Luca di Montezemolo made two interesting remarks in an interview with Italy's Gazzetta dello Sport newspaper this week.
Firstly, he said that Alonso's contract ended in 2015 - when the team have always said that his deal runs to the end of 2016.
Secondly, he said - before the first race - that if Alonso's team-mate Felipe Massa has a strong season, that the Brazilian will drive for them again in 2014.
As ever in F1, the off-track intrigue promises to be every bit as fascinating as the on-track action.