Lewis Hamilton makes his debut as a BBC Sport columnist
Last updated on .From the section Formula 1
In the first of a new series of columns for BBC Sport, Lewis Hamilton discusses being a role model, wearing baggy trousers and why joining Mercedes gave him goosebumps...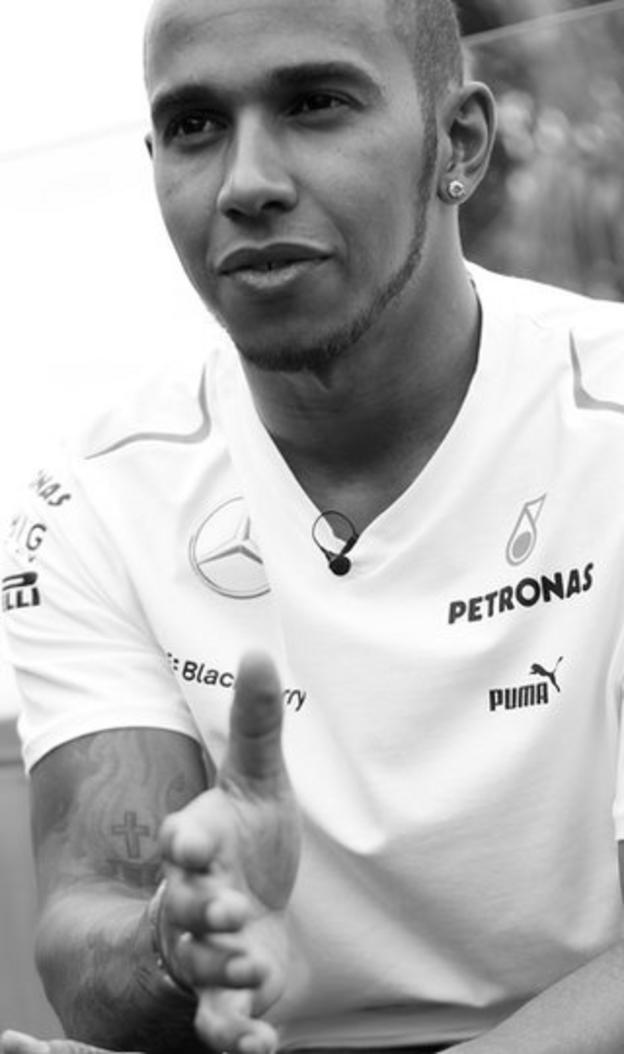 I'm really pleased to be starting this column. I wanted to do it to give people an insight into the real me. It's a way to communicate with my fans and to reach out and allow people to get to know me better.
Sometimes through the media, you're projected in a certain way. Here, perhaps I can be myself a little more. I'd like people to see me for who I really am.
I'm not here to offend or upset anyone. There shouldn't be any animosity or upset. People should just know me for racing hard and being myself away from the track.
Recently, there have been some really positive things said about me. Some less so.
There are certain perceptions that I think aren't necessarily true. When people get to know me more, they can perhaps make a better judgment.
That is what has happened with Niki Lauda, a former world champion and now non-executive chairman of my Mercedes team.
Niki made some comments about me a couple of years ago on television, but, since he has got to know me, his perception has changed. I hope the same thing will happen with other people, too.
Life in the spotlight
Formula 1 drivers live their life in front of the camera. If you've not been in that position, it's very difficult to understand what it's like.
It's crazy, it's quite odd and it's very cool in many ways, but it's also very weird because people can make a comment about the way you look, the way you speak, everything you do, when they don't even really know you. You can never please everyone.
People think I hang around with celebrities all the time, but that's not true at all.
I have a girlfriend, Nicole Scherzinger, who is a celebrity, but you don't choose who you fall in love with. I just happened to meet her at an event I was at and sparks went flying.
It just happens that she is successful at what she does. That's great.
I get to meet incredible people like Tom Cruise, Will Smith and Denzel Washington, but it's very rare I have celebrities at a race with me. Most of the time, my family and friends are there.
If anyone else was in that position, they would just appreciate the people they meet on occasion. That's all I do.
I have a friend who is a music producer and I'll go and hang with him when I'm in Los Angeles. He'll be producing for whoever it may be and I'll just be in the studio chillin'.
He's just a friend of mine - we go bowling together - but just because he's a producer doesn't mean we're being 'gangsta'.
I'm massively into music, but it doesn't mean I'm not focused on my job. I couldn't be more focused on winning.
In my private time, instead of being out in nightclubs I like to be with my friends, being creative, designing things or coming up with ideas.
A new season, a new start
As I'm sure you know, I've joined Mercedes for this season. From a personal point of view, I feel refreshed and re-invigorated.
It's a different working environment. McLaren are a great team but they have a very specific way they like to go about things.
That's worked for them very well over the years, but it means, for example, that they are very strict about what you can and cannot wear at the track.
Now, I can wear my jeans with my team T-shirt rather than all this corporate gear. Sometimes I felt uncomfortable in that stuff.
People perhaps don't know that when I was a kid I was so heavily influenced by hip-hop. I had the baggiest clothes and wore basketball jerseys, bandanas, baseball caps and a chain. I was real swagged out.
I'm not as young anymore, but, like anyone out there, I just want to express myself.
You know what it's like when you're at school, there are the kids with dark make-up, the geeky kids, the cool kids and so on. I just happened to be in the group I was in.
I remember when I first went to McLaren. I had my big baggy shirt and jeans on and got a few dodgy looks. I thought I had to change to be accepted and fit the way people wanted me to be perceived.
Now, I feel like I am slowly able to come out of my shell a bit and be myself.
I've grown up a lot in recent years and I'm definitely making better decisions. I've made a lot of mistakes, I'm the first to admit that, but I'm beginning to learn how not to make them.
I really recognise I'm a role model for children and I take that seriously, but at the same time I don't want to stop being who I want to be.
Excited about the new campaign
The new Formula 1 season starts this weekend in Melbourne and I am so proud to be a fully fledged member of Mercedes and part of the official Silver Arrows team.
It's such a prestigious team and such a unique opportunity. The team has not had a lot of success and I want to be part of the group of people who help turn it around. It is a great challenge for me to be able to do that.
I have put myself in the mindset that it's going to be a much tougher year.
In January, I was happy with the decision I'd made, but I definitely had goosebumps about driving a car that was a fair bit slower last year.
Then I went to the factory, saw what improvements were being made and was able to relax when I finally got into the car.
The car felt good and I thought: 'I can work with this.'
We've been making improvements, the guys are really on it and I feel really confident we can challenge this year.
When exactly, I don't know, but I don't think it will be too long before we're winning races if we continue on the route we're on. There will be highs and lows ahead, but I'm excited that you can all be with me on this journey.
Thanks for taking the time to read my first column and be sure to follow me on Facebook and Twitter, so I can share some more cool pictures with you.