Australian GP: Paul di Resta frustrated by Force India's tactics
Last updated on .From the section Formula 1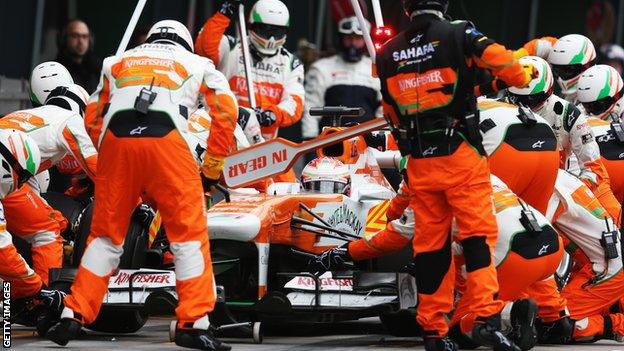 Scotland's Paul di Resta feels team tactics prevented him finishing seventh at the Australian Grand Prix.
The Force India driver secured eighth place, just behind team-mate Adrian Sutil, in a race won by Kimi Raikkonen.
"I feel slightly robbed at the end of the GP that I had a car that could've finished seventh," Di Resta said.
"But that's the way it is and what the team wanted. It's a good team result and for both cars."
With Di Resta qualifying ninth and Sutil 12th, the team operated different strategies for the duo which culminated in the Scot reeling in the German over the closing laps.
But rather than being allowed to pass Sutil, Di Resta was ordered to hold station and avoid the possibility of a collision.
Qualifying had unusually been held on Sunday morning after heavy rain forced it to be postponed.
Di Resta finished 12th in qualifying and climbs four places in Sunday's race. However, he was frustrated by events in Melbourne.
"It's a disappointment. As I say, I should have been seventh, but you look at the whole picture from a team point of view and we came away with seventh and eighth place," he added.
"We have to make the car go stronger and certainly go to Malaysia with high hopes of making our strategies work," he said.
"Our car seems to be very good on tyres again. We were quite clear about where we were going. Unfortunately, I think it was traffic, the three stoppers that got in our way. There are positives and it's good to get points on the table already.
"Temperatures will be high (at the next GP in Malaysia) but I think our car should suit the warm weather. I'm fairly happy and we'll enjoy the next few days before we get back to work in Malaysia and conquer the jet lag; hopefully be fighting fit."
Race results top 10
1. Kimi Raikkonen - Lotus 1:30:03.225
2. Fernando Alonso - Ferrari +00:12.451
3. Sebastian Vettel - Red Bull +00:22.346
4. Felipe Massa - Ferrari +00:33.577
5. Lewis Hamilton - Mercedes +00:45.561
6. Mark Webber - Red Bull +00:46.800
7. Adrian Sutil - Force India +01:64.068
8. Paul di Resta - Force India +01:67.449
9. Jenson Button - McLaren +01:80.630
10. Romain Grosjean - Lotus +01:81.759