Murray's Memories: Schumacher and Irvine at 1999 Malaysian GP

By Murray Walker
Formula 1 Analyst, BBC Sport
Last updated on .From the section Formula 1
Legendary F1 commentator Murray Walker will be providing a series of archive-based videos and written articles for every race of the 2013 season.
'Murray's Memories' are his personal recollections of some of the most dramatic moments in the history of F1, and the second in the series is 1999's inaugural Malaysian Grand Prix...
Malaysia is viewed as one of the new generation of circuits. But amazingly this year sees the 15th race at Sepang, so it's almost become a historic venue.
Built by Hermann Tilke, the man who designs all the new grand prix venues these days, the track is agreed by the drivers to be one of the very best - and there have been some cracking races there.
But none of them matches for drama the very first in 1999.
It was the penultimate race of that season and it was marked by a spectacular comeback from Michael Schumacher, who had been out since breaking his leg in a crash on the very first lap of the British Grand Prix in July.
Schumacher had not yet won a world championship for Ferrari and the summer was full of rumours that he did not want to return to racing that season because it might mean helping team-mate Eddie Irvine win the title. That, it was said, was not what the German wanted because he saw himself as the man who would break a 20-year championship drought for Ferrari.
Whether that was true or not, in the end, he had to come back. Ferrari president Luca Di Montezemolo phoned his house in Switzerland to see how his recovery was going, and Schumacher's daughter Gina Maria answered the phone and told him daddy was outside playing football.
The order to return for duty followed shortly afterwards…
Everyone wondered how Schumacher would get on in Malaysia, his first race after four months out and on a demanding track in hot and humid conditions.
Well, he was sen-sa-tional.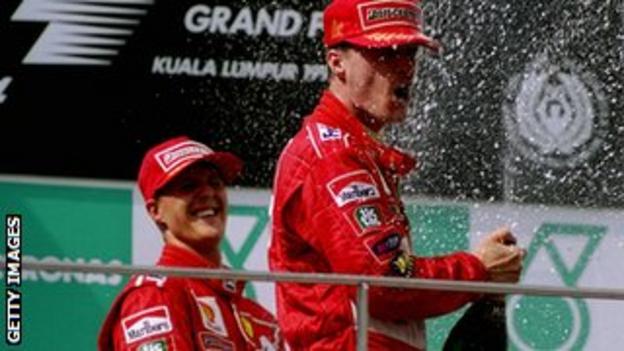 Schumacher put the Ferrari on pole position, but then let through Northern Irishman Irvine, who was only two points behind McLaren's Mika Hakkinen in the championship, before proceeding to block and harry Hakkinen for the rest of the race.
The Finn was not impressed - he claimed Schumacher had been pulling dirty tricks to stop him getting too close, such as braking and accelerating at unexpected moments. But Irvine won the race and took the lead in the championship.
Or did he? A few hours after the race, both Ferraris were disqualified for illegal bodywork. Technical director Ross Brawn even held up the offending part to journalists and explained why, although Ferrari had not intended to, it broke the rules.
But then Ferrari appealed against the decision and a few days later Irvine and Schumacher were contentiously reinstated at an appeal court hearing in Paris.
With the dramatic race, and even more dramatic, messy aftermath, it was a lasting memory for me.
And two weeks later in Japan, Hakkinen deservedly became world champion, when he led from the front and neither Schumacher nor Irvine could stay with him.
Now let's hope for a straightforward race at Sepang on Sunday!