McLaren boss Martin Whitmarsh rules out using last year's car

By Andrew Benson
Chief F1 writer
Last updated on .From the section Formula 1353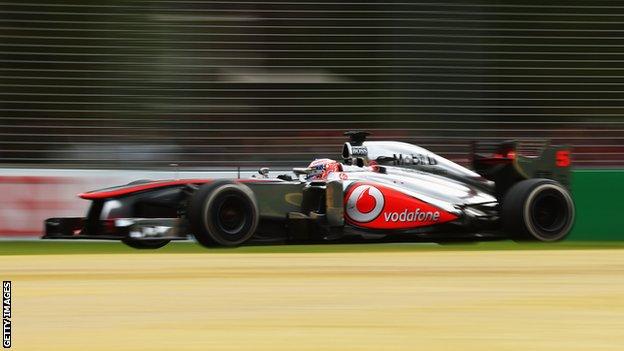 McLaren have ruled out switching to last year's car as a way out of their uncompetitive start to the season.
McLaren ended last year with the fastest car but their new car proved to be more than two seconds off the pace at the season-opening Australian Grand Prix.
McLaren team principal Martin Whitmarsh believes the new car should be faster.
"All our efforts are currently focused on understanding this year's car, not considering last year's car," he said.
"We believe we can fix those issues."
Jenson Button and Sergio Perez finished Sunday's Australian Grand Prix ninth and 11th after starting 10th and 15th.
In qualifying, Button made it into the top 10 shoot-out with an impressive fourth-fastest lap in damp conditions.
But in the dry in the final part of qualifying he was 2.95 seconds slower than Red Bull driver Sebastian Vettel's pole position time.
Whitmarsh added: "At the moment we have to work hard on this car.
"We know it has got some areas of high potential and we know it has potentially more downforce than last year's car.
"We just need to understand it and make sure [the performance] is accessible.
"We have all had cars in the past that have been difficult to get performance out of, even though some of the [downforce] figures are quite impressive.
"This car seems to be difficult in that regard and we need to work on it, understand it and fix it."
Asked whether the team were confident they knew what the problems were, he said: "I think coming out of a weekend like this and saying the engineers are confident would probably be a bit strong.
"But we believe in what we can do as a team. I am sure we are going to get there.
"It probably won't get there as quickly as I would like it to, but I will be encouraging them to do so."
In theory, it would be relatively easy for McLaren to use last year's car should they want to as there have been relatively few rule changes between last year and this.
The load test on the front wing has been made tougher, to prevent teams from making their wings rotate on their axis for aerodynamic benefit.
McLaren were one of the teams whose wing did this last year, but it would be possible to stop it happening - although it would slow the car down.
There are also tougher mandatory impact tests this year, but it is understood McLaren had already built their 2012 car to the higher crash-test standards required this year.