Fernando Alonso confident Ferrari can compete with Lotus's pace

By Andrew Benson
Chief F1 writer
Last updated on .From the section Formula 1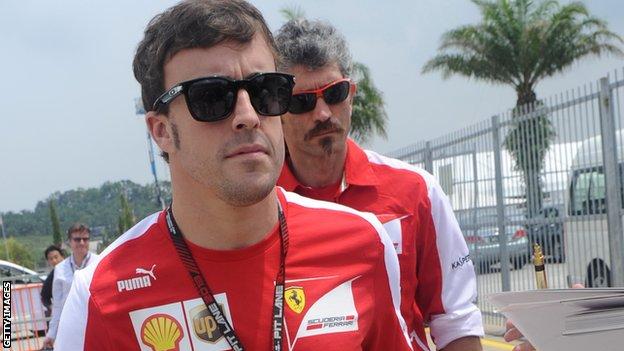 Fernando Alonso says he is confident his Ferrari team can compete with Kimi Raikkonen and Lotus, the winners of the season's first race.
The Spaniard was beaten by Raikkonen into second place on Sunday in Australia but he expects to be more competitive in Malaysia this weekend.
"Lotus's pace was very good but nothing that we could not do," Alonso said.
"They had a clean race and a good strategy but the pace was not out of reach. Here we can fight a bit closer."
Alonso, who has narrowly missed out on the world championship to Red Bull's Sebastian Vettel in two of the last three years, said his strong start to the season had convinced him he could compete for the title again.
"We have a more or less competitive car. In Australia everything worked quite fine for us and we show a good potential," he said.
"But it is true that Australia's circuit is a very strange and very unusual circuit.
"This weekend is for us a little bit of a confirmation. We need to confirm the car is performing well after some positive feelings in winter and some positive feelings in Australia.
"This is a very real test for us. We want a clear weekend and a very good result and again a podium will be a very good target to achieve. If we do so we can be very happy."
Raikkonen denied that his win in the first race made him the man to beat or would change anything in his approach.
"There's no target [on our back]," he said. "We don't do anything different this weekend than we did in the previous race or last year.
"If people think that we are leaders, it makes no difference to our work, what we did or what we're going to do this weekend or any other weekend. Like I said, we try to do our best and hopefully we can score some good points."
But he admitted that he did have his sights set on winning the title if possible.
"We try and see what happens during the year," he said. "But it was good in one race so hopefully we can score good finishes in other races.
"After half a year we see where we are and hopefully we are still in the hunt for the championship."
Vettel was third in Australia after being unable to repeat his dominant qualifying pace in the race, partly because of heavy tyre usage.
Raikkonen said that qualifying in Australia did not necessarily reflect the true competitive order because there was a lot of running in the wet and the end of the session was run when conditions were changing quickly.
"The qualifying wasn't normal so I don't know why people look so much into it," he said. "It doesn't give you a full picture of things."
Vettel admitted tyre usage had been a problem for Red Bull and said the team were working on improving it for Malaysia.
"We still managed to get a very good result," he said, "but we probably didn't have enough pace in the race, [for] which there is a direct link to tyre degradation to beat the two cars in front of us.
"You don't approach the race thinking I will win for sure, even if you start from pole. It's not that easy.
"Though we saw the chance to win, the problems we had in the race… we didn't expect it to be that much of a problem to be honest. But we learned a lot and hopefully we can improve already for here."