Red Bull's Sebastian Vettel & Mark Webber criticise new F1 tyres

By Andrew Benson
Chief F1 writer
Last updated on .From the section Formula 1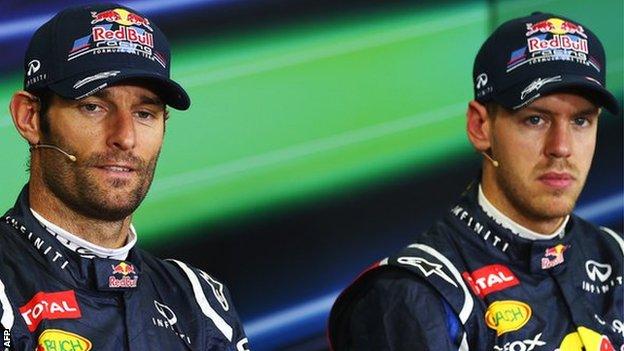 Red Bull drivers Sebastian Vettel and Mark Webber expressed their dissatisfaction with Formula 1's tyres at the Malaysian Grand Prix.
Webber said: "The whole category is geared around tyres at the moment - tyres, tyres, tyres, tyres."
Vettel added: "I hope we have enough tyres to survive the race."
The world champion said the fast-wearing nature of the tyres meant that their performance was the determining factor - not that of the car itself.
"Tyre wear was pretty severe for everyone," Vettel said. "You end up going around way under the car. It's not a lot of fun but that's the way it is."
He added: "This afternoon we couldn't do that much [race preparation] because of the weather.
"It looked pretty OK [in terms of Red Bull's competitiveness] but quite a mess if you look at how long the tyres last. There is some footage to look at too; it doesn't look very nice, I have to say.
No other driver was so publicly critical of the tyres, and McLaren's Jenson Button said he expected them to be easier to deal with than at the first race of the season in Australia last weekend.
"I don't think there is a lot of degradation here," he said. "It is not an issue like we had in the first race."
But Red Bull team boss Christian Horner said: "We have had one race as a reference; let's see how this race pans out and we'll start to get a clearer picture.
"For sure, the tyres are quite fragile and you only have to look at some of the slow-motion shots to see the amount of rubber coming off them, which is quite surprising. But then it's the same tyre for everyone.
"The tyres for sure [have] a key role at the moment and I think they will be a decisive factor this weekend and it is a matter of finding the operating window in which they give performance and longevity.
"I think what we want to avoid is drivers cruising around under the performance of their car, unable to follow another car closely, otherwise it's not racing. But it's still early days so let's see a sample of two or three races and then be able to gauge from there."
Pirelli motorsport director Paul Hembery said he expected this year to be like the last two - that there would be a lot of discussion about excessive tyre wear and degradation early in the season but that it would decrease as the teams learned how to handle the tyres.
"You could take the quotes from the last two seasons and the quotes from the first few races which would be exactly the same," Hembery said.
"It tends to be a phase at the start of the year, and after six to eight races, then it all changes. It will all move away as people start to get used to it.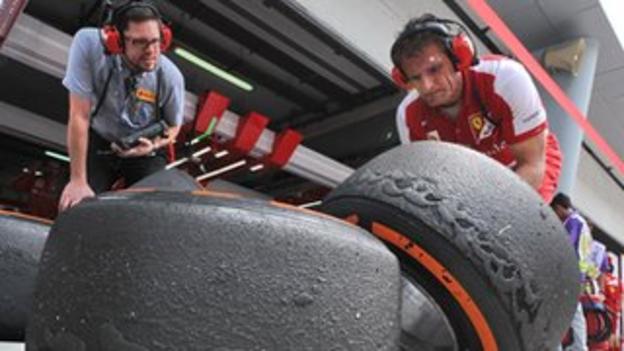 He added: "It starts off like that; the challenge is an interesting one. It's the same for every team. As the season progresses it becomes about the cars and drivers, as it should be."
Pirelli has introduced softer tyres this season, as it did from 2012 after its first year as monopoly supplier in 2011, in an attempt to liven up the spectacle.
Last year, races increasingly featured only one pit stop per driver as the season progressed, while Pirelli and the sport's power brokers prefer there to be two or three.
Hembery said after Friday practice in Malaysia that early indications suggested that degradation on the 'hard' tyre would be 0.015secs per lap, with a life span of 15 to 20 laps; while on the 'medium', degradation would be 0.25-0.3secs per lap with a life of 14-15 laps.
The medium tyre is about 0.7-0.8secs faster than the hard, according to Hembery.