Nick Fry to step down as CEO of Mercedes F1 team

By Andrew Benson
Chief F1 writer
Last updated on .From the section Formula 1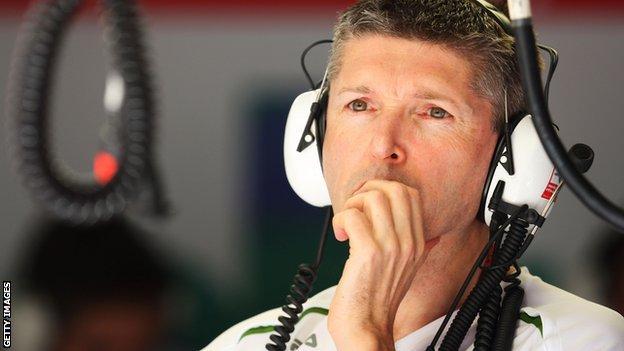 Nick Fry is to step down from his position as chief executive officer of the Mercedes Formula 1 team at the start of next month.
Mercedes said its sports boss Toto Wolff, the executive director of the F1 team, would take a "greater role in the day-to-day running of the team".
Wolff will work alongside team principal Ross Brawn.
A statement said Fry would be retained as a commercial operations consultant "until at least the end of 2014".
Fry's move is the latest in a series of senior management changes at the team since last year.
Triple world champion Niki Lauda was last year announced as a non-executive director at the same time as the team revealed its signing of Lewis Hamilton to replace Michael Schumacher for this season.
Wolff became Mercedes motorsport boss in January this year, as well as a 30% shareholder in the F1 team, a month after predecessor Norbert Haug was sacked.
Mercedes have also recruited former McLaren technical director Paddy Lowe.
The 50-year-old is on gardening leave from McLaren until the end of this year and will join Mercedes in 2014, although Mercedes have not yet publicly admitted they will take him on.
Wolff and Lauda plan for Lowe to take on a role running the sporting and operational side of the team, alongside Wolff.
Lowe's arrival is expected to see Brawn depart from his role as team principal, as exclusively predicted by BBC Sport.
BBC Sport understands Brawn, should he wish to, may stay involved with Mercedes in another role, which a source says will likely be running their motorsport engine department in Brixworth in Northamptonshire.
Brawn and Fry were instrumental in saving the team before it became Mercedes.
Former owner Honda pulled out of F1 at the end of 2008 and Brawn and Fry kept the team alive through the winter, eventually reconstituting it as Brawn, under which guise they won with Jenson Button the drivers' and constructors' titles in 2009.
Mercedes bought Brawn at the end of 2009 and entered under its own name from 2010.
But the team's lack of success - it won only one race in three years - led Mercedes to make major changes.
Fry said in a statement: "I feel very privileged to have had the opportunity to work with our team for the last 11 years and remain extremely proud of the fact that we took the team to its first race win and especially the double world championship in 2009."