Mark Webber's father criticises Sebastian Vettel over win
Last updated on .From the section Formula 1878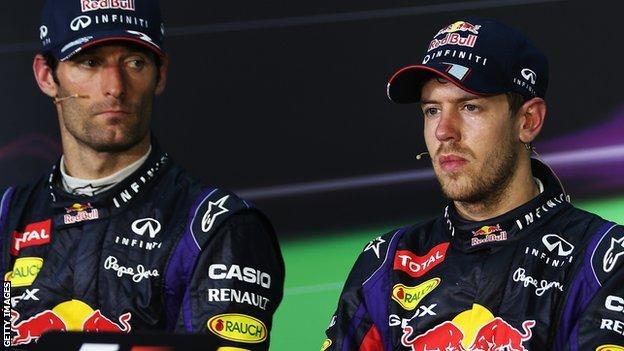 Mark Webber's father says it will take time for Sebastian Vettel to regain his son's "respect and trust".
Vettel was told to stay behind his Red Bull team-mate during but overtook Webber to win the second race of the season.
"Up and down the pit lane Mark has not lost any credibility at all," said Alan Webber. "It's probably Sebastian who has lost an awful lot.
"I think it will take a while to earn the respect and trust again."
Speaking to the Australian Broadcasting Corporation, he added: "Sebastian disobeyed team orders and most, if not all the team, are disappointed with him."
Webber Sr also dismissed the suggestion that his son, 36, would turn his back on the sport before the Chinese Grand Prix on 14 April.
Three-time world champion Vettel achieved his 27th career race win on Sunday after overtaking Webber with 13 laps of the race remaining. The 25-year-old German
Formula 1's president and CEO Bernie Ecclestone has also expressed his disappointment at the situation.
The 82-year-old said there was not enough at stake after two races to justify team orders: "If there is only one guy who could get enough points to win the title, then the other guy should be helping him, for sure."
Ecclestone also criticised Mercedes for ordering Nico Rosberg to remain behind team-mate Lewis Hamilton, despite being much faster than the Brit in the closing stages.
"I thought that was a stupid decision. I think Rosberg could have chased the two Red Bulls down a little more. That decision wasn't sensible," added the F1 chief.
Rosberg finished fourth behind Hamilton, who later apologised, admitting the German deserved to finish third.
Meanwhile, former Benetton and Renault team principal Flavio Briatore believes Webber's relationship with Vettel will never be mended.
"I think there's no relationship any more," said Briatore, speaking to RAI Radio.
"It was already very formal beforehand between the two Red Bull drivers, that was very clear last year, but I don't think this relationship can be fixed.
"They are two professionals, they will win races and so on, but it's unthinkable Mark may help Vettel in the future, and I don't think Vettel will help Mark.
"So we'll have two enemies inside a single team."