Red Bull highlight Mark Webber & Sebastian Vettel's record

By Andrew Benson
Chief F1 writer
Last updated on .From the section Formula 1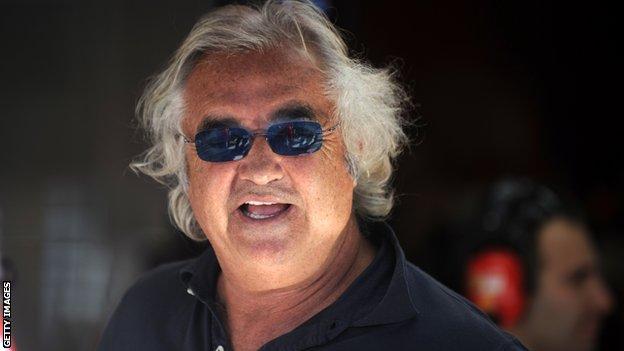 Red Bull have reacted to claims Mark Webber and Sebastian Vettel are "enemies" with an irreparable relationship by highlighting their successful record together.
Webber's manager Flavio Briatore said he was "sure" one of them would leave Red Bull at the end of the season.
Red Bull told BBC Sport this was "pure speculation".
"We are two races into the current season and it's far too early to be talking about 2014," the team said.
"Mark and Seb have driven together since 2009 and the pairing has achieved 35 wins, 80 podiums, 13 one-two finishes and six Formula 1 world championships," the team said.
"This successful period includes some spells of intense on-track rivalry between the two drivers, which began in Turkey 2010 and has seen both drivers ignoring team orders at different times."
Vettel ignored a call to stay behind team-mate Webber in Malaysia on Sunday and overtook him with 13 laps remaining to win the race.
"The team has managed the situation each time in its own way behind closed doors," the team added.
"It's pure speculation that Mark will not drive with the team in 2014.
"Mark's contract has been renewed for the last few years on an annual basis - he has continually chosen to drive for the team each year and the team has similarly wanted to continue working with him, as he is an excellent driver and a competitive racer."
Former Renault F1 team boss Briatore had also said Red Bull team boss Christian Horner's decision to send chief technical officer Adrian Newey on to the podium was both a sign of weakness and a break in protocol for the first win of a season.
Red Bull said: "It is one person's opinion that the team principal must go to the podium for the team's first win of the year.
"Christian has not previously always attended the first win podium and Lotus also did not send their team principal to the podium in Australia - so this is irrelevant.
"A 'weak' team principal would be unable to steer a team to three consecutive world championships and oversee and manage the extensive teamwork that goes into this achievement - while managing two talented racers.
"This feat has only ever been achieved by four teams in the entire history of the sport."
Briatore's claims came in an interview with RAI Radio.
The Italian, who has been out of F1 since being sacked as Renault boss for his role in the 2008 Singapore race-fixing scandal, said: "There's no relationship [between the drivers] any more.
"It was already very formal between the two - that was very clear last year. But I don't think the relationship can be fixed."
Asked whether he expected either driver to leave at the end of the season, Briatore, a former owner of Queen's Park Rangers football club, replied: "That's for sure."
He added: "Sepang was proof no-one is in charge at Red Bull. Vettel is the boss there. You can't have a team manager also doing the driving.
"Normally the team principal goes on the podium at the first race win of the season.
"Christian didn't even have the strength to get on the podium because they're terrified with a driver in charge instead of the team manager."
However, Briatore has since issued a statement insisting his controversial comments had been "misinterpreted".
"I have known Chris for many years and we have always enjoyed a great working relationship," Briatore said.
"Besides considering him a good friend, I have a lot of respect for him professionally.
"As a team principal, I think Chris has done an excellent job not only for Red Bull, but for Formula 1 in general, and he is still undoubtedly doing so."
Meanwhile, Webber, who said after the race that he had been considering his future at the team during the last few laps, has indicated he will be at next month's Chinese Grand Prix.
On Wednesday he posted on his Twitter account a photo taken while training in Australia with the words: "‪#backstreets‬ ‪#loveit‬ ‪#chinaprep‬".