Williams names daughter Claire deputy team principal

By Andrew Benson
Chief F1 writer
Last updated on .From the section Formula 1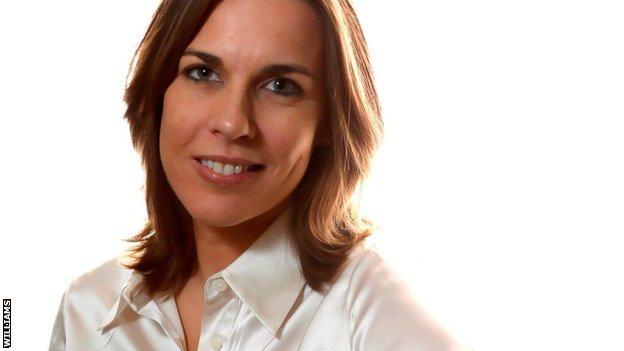 Sir Frank Williams's daughter Claire Williams has been lined up as his long-term successor as team boss.
The Oxfordshire-based team announced on Wednesday that she had been made deputy team principal in a move that created "a clear succession path for Williams".
The 36-year-old retains her role as commercial director, leading the Formula 1 team's marketing, communications and sponsorship.
Sir Frank said: "I know the future of Williams is in extremely safe hands."
Williams becomes the second woman with a role running an F1 team, emulating Sauber's Monisha Kaltenborn, who was promoted to team principal last season.
She said: "I have grown up in the sport and have learnt the ropes from one of Formula 1's legendary team principals. As a result I feel well equipped for this new challenge.
"I understand the commitment that every person within the team gives each day to see our car out on the track and I am determined to see us back at the top."
The team said they had planned to announce the move before the start of the season but delayed it following the death earlier this month of Sir Frank's wife Virginia of cancer.
Sir Frank, 70, added: "Over the past decade, Claire has worked tirelessly for Williams.
"Her knowledge of the sport and passion for the team is unquestionable and I'm proud to say that during her time here she has proven herself to be one of our most valuable assets.
"This appointment also had my wife's blessing, who I know would have been incredibly proud to have seen Claire taking on this position by my side.''
Claire Williams added: "It has been a sad month for my family and Williams as a company following the death of my mother, but as the season takes hold we must look to the future.
"It will be a privilege to play a part in taking the team into what I hope will be a successful next chapter."
Speaking to BBC's 5 live, Williams said she was determined to bring the team back to the 1990s "Mansell-mania" days, where the team won four driver's titles and five constructors' championships between 1992 and 1997.
Williams added: "I have worked for the team for ten years and I've grown up around the team.
"I used to spend my summer holidays working in the race office, booking flights for all of our mechanics going to the Grands Prix. There might be some doubters but I've worked hard for the team and look forward to the challenge ahead.
"I'll be representing Frank at the circuit whenever he is not there, so will be learning the ropes from him over the next few years, with a view to taking over one day, I imagine."