Murray's Memories: France 1979 - 'They bang wheels!'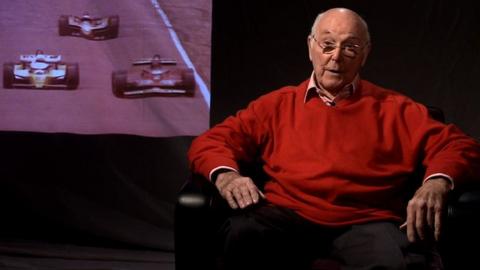 Legendary F1 commentator Murray Walker will be providing a series of archive-based videos and written articles for every race of the 2013 season.
'Murray's Memories' are his personal recollections of some of the most dramatic moments in the history of F1, and the fourth in the series is Gilles Villeneuve and Rene Arnoux's battle during the 1979 French Grand Prix.
I've been watching grand prix racing for the best part of 70 years and I continue to be delighted by its capacity to surprise and thrill.
In all that time, there have been any number of exciting races and even the ones that seem less gripping are always fascinating in one way or another.
I have watched hundreds of races and if you were to ask me which one was the most exciting then it would be hard to find one that stands out more than the 1979 French Grand Prix.
It was a landmark race - Jean-Pierre Jabouille's victory in his Renault was not only his and his team's first ever in F1, it was also the first by a turbo-charged engine. And it set the tone for an era that was to last for the next decade.
But Jabouille's superb drive and the importance of the occasion were overshadowed by the incredible drama behind him.
Typically refusing to yield to the superior Renaults, the feisty French-Canadian, Gilles Villeneuve made a trademark brilliant start in his Ferrari and led for more than half the race until Jabouille passed him and pulled away. The race for first was over.
But Villeneuve was determined to hold on to second place and all eyes were now on the battle for second between the Ferrari and Jabouille's team-mate, Rene Arnoux, who had clawed his way up after a poor start.
By the final few laps, Villeneuve's tyres were as good as completely shot, and when Arnoux passed him with three laps to go it looked like there would be a Renault one-two on home ground.
But that was counting without Villeneuve, and what followed has to be the most dramatic duel F1 has ever seen.
Neither of them would yield - banging wheels, passing and re-passing, the last three laps were absolutely sensational.
Arnoux led into the last lap but Villeneuve, who simply never gave up, dived down the inside into the Parabolique hairpin and grabbed the place for the final time.
They crossed the line for the final time nose-to-tail at the end of what will surely be the greatest duel F1 ever sees.
So, a glorious first and third for Renault, but it was to be another three years before a turbo-charged car won the constructors' championship.
Sadly, by then the brilliant Villeneuve, the most spectacular of them all, would tragically have lost his life - killed in a crash during qualifying for the 1982 Belgian Grand Prix.
Truly a race - and a driver - to remember for many years to come.