Lewis Hamilton and Mercedes can win title - Sir Jackie Stewart
By Lawrence Barretto
BBC Sport
Last updated on .From the section Formula 1627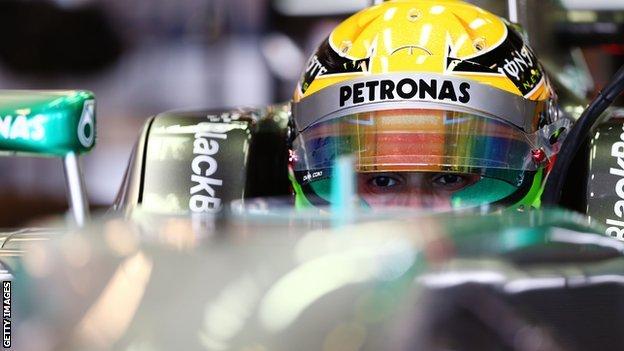 Lewis Hamilton and Mercedes have a car which is capable of challenging for race wins and the world championship, according to Sir Jackie Stewart.
Mercedes have started the season strongly, with Hamilton finishing fifth and third in the first two races.
Stewart told BBC Sport: "Yes, they can win races. Lewis will drive the living daylights out of whatever car he's got.
"They can challenge for the title, but they will need to keep up with Red Bull and Ferrari in terms of development."
Kimi Raikkonen won the opening race of the season in Australia, with world champion Sebastian Vettel controversially winning in Malaysia.
Hamilton is currently fourth in the world driver's standings on 25 points, a point behind Red Bull's Mark Webber. Vettel leads on 40 points, with Raikkonen second on 31.
The three-time world champion added: "If the Red Bull is as good as it can be, that's your main opposition, while Ferrari are already more competitive at the start of the season than they were last year.
"The Lotus is very competitive, too, and McLaren will fight back, but [Mercedes team principal] Ross Brawn is an extraordinarily talented man. Mercedes exist to win and they have the resources to do so."
2008 world champion Hamilton joined Mercedes this year after spending six seasons with McLaren, who supported his racing career from the age of 13.
Mercedes, along with their drivers Hamilton and Nico Rosberg, played down hopes for this season despite the car impressing in testing.
But the Silver Arrows were quick in Australia and the second best team in Malaysia, as Hamilton finished third and Rosberg fourth behind the Red Bulls to show that the team had made a step forward.
The next race, which is live on the BBC, is in China on 12-14 April.
Stewart added: "If Mercedes had let Rosberg pass Hamilton in Malaysia, could he have caught the Red Bulls? It's not impossible."
Hamilton has outscored team-mate Rosberg in the first two races, although the German was instructed to hold position in Malaysia, and Stewart believes it is the newcomer who is currently in the strongest position within the team.
Stewart said: "There's no question that Lewis holds the upper hand because he's had more success - he's had more race wins and a championship. He's also started the season well. Nico has won a race [in China last season], but he has yet to follow that up.
"Mercedes have got themselves a very expensive driver and they'll want him to do well.
"They've got the people who Lewis feels will be good for the team. [Technical director] Paddy Lowe is coming from McLaren and I'm sure part of the reason is because Lewis is there.
"Nico is a skilled and talented driver and he may well be better on his tyres but he would have learned his lesson in Malaysia that you can't leave it until the last minute to try and take the initiative. It'll be interesting to see how he responds."