Jenson Button aims to revive his McLaren season in China
Last updated on .From the section Formula 1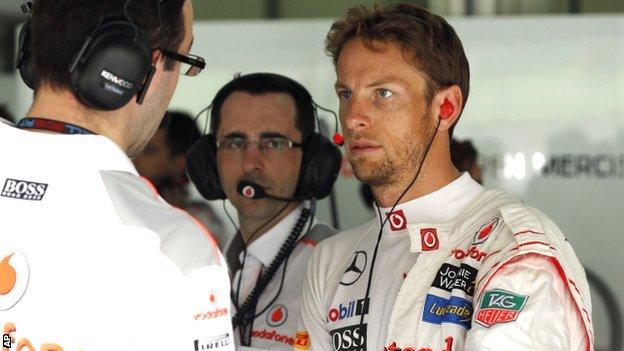 Jenson Button plans to revive his title challenge at next week's Chinese Grand Prix after a poor start to 2013.
A risky car redesign put McLaren on the back foot in the first two races but Button says the team are closer to solving the car's lack of pace.
"Everybody in the team has picked themselves up and really attacked addressing our car's issues," he said.
"I definitely think there's everything to play for with this championship. I can't wait to start the fight again."
Button and his new team-mate Sergio Perez have taken two points apiece as Button battled to ninth in Australia and Perez followed suit in Malaysia.
A bungled pit-stop denied Button a potential podium finish in Malaysia but the 33-year-old says he is confident the team can now build on the improved race pace he showed in Sepang.
"Taking home two points from the first two races obviously wasn't what we had in mind at the beginning of the year," Button said.
"The important thing for us as a team is to go into the weekend with clear focus, hone our strengths across the sessions and increase our understanding of the car.
"We know where we're losing performance, so I think we're actually all looking forward to seeing just what we can achieve in Shanghai. I think we can have a pretty good race next weekend."
While most other teams have decided to build an evolution of their 2012 cars, McLaren - who had the fastest car for most of last year - took a more radical approach.
McLaren team principal Martin Whitmarsh, who has stood by his team's car design, says the three-week break has given the team useful time to understand how to unlock the car's potential.
"Our performance in Australia and Malaysia fell below the high standards we've come to expect at McLaren," Whitmarsh said.
"However, the three-week break between rounds two and three has been a useful one.
"We've been fully engaged in further developing our understanding of the MP4-28 and are confident of being able to implement a number of changes that will potentially improve its performance.
"We feel confident that we are starting to turn the page. Formula 1 is an unpredictable beast. We head to China next week with the hope of making further progress and eating into the advantage currently held by the leading pack."
Perez has also been pleased to get some breathing space after a mixed start to his McLaren career that saw him miss the cut in the first phase of qualifying in Melbourne and muscle his way to ninth in Malaysia.
"There's been a little time to breathe after the first two races of the season," said the Mexican.
"That's been important for us, as we've been able to get back to MTC [McLaren Technology Centre] and really throw all our efforts behind the modifications we need to make the car perform more consistently.
"So, we go into round three, and I feel there's a lot of positivity within the team."