Lewis Hamilton favoured by Mercedes says Allan McNish
By Lawrence Barretto
BBC Sport
Last updated on .From the section Formula 1550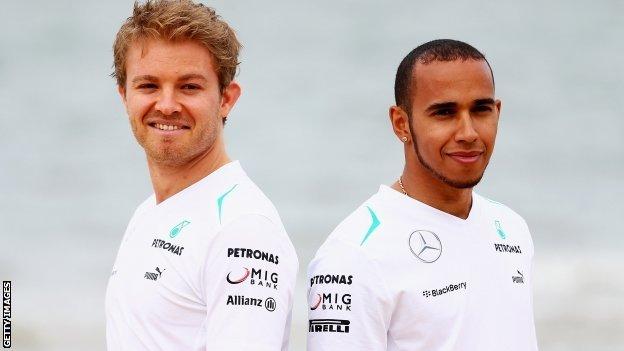 Events in the Malaysian Grand Prix show Mercedes are favouring Lewis Hamilton in their pursuit of the world title, according to ex-F1 driver Allan McNish.
"Just look at that conversation over the radio," McNish told BBC Sport.
"Even though it's not official, there's definitely a strong focus on Hamilton being their main challenge for the championship."
McNish, who will work as a BBC Radio 5 live analyst for at least six races this season, added: "They've opened their arms to Hamilton and they've certainly got their arm round him quite well at the moment."
Hamilton, who joined Mercedes for this season after spending the first six years of his F1 career with McLaren, has out-qualified and outscored Rosberg in each of the first two races of the season.
The 2008 world champion is currently fourth in the drivers' world championship on 25 points, 15 behind leader Sebastian Vettel but 13 ahead of Rosberg who is entering his fourth season with the Brackley-based team.
"I think he's definitely been comfortable with what they are going to give him and the changes Mercedes are going to make to the structure of the team - otherwise he wouldn't have gone there," added McNish, 43.
"It was clear that Hamilton was the quickest guy on the grid last year and I'm not surprised he's had the upper hand over Rosberg in qualifying because I do believe that Hamilton is the fastest guy over one lap. He has brought a fresh lease of life to the team."
However, the Scot, who raced for Toyota in 2002 and was a test driver for Renault in 2003, believes Rosberg will still provide a challenge for Hamilton.
"I actually think Nico has done very well, especially in Malaysia," added McNish, whose best result was seventh in the 2002 Malaysian Grand Prix.
"Team-mates have gone up against Hamilton and failed - he's a tough nut to crack but he's a world champion for a reason. So it'll be interesting to see if Rosberg can keep pushing him."
While Mercedes have started strongly, Hamilton's former team McLaren are struggling.
Jenson Button and his new team-mate Sergio Perez have taken two points apiece as Button battled to ninth in Australia and Perez followed suit in Malaysia.
But on Friday Button said he was confident the Woking-based team could build on the improved pace they showed in Malaysia before a bungled pit-stop ended hopes of a podium.
"I don't think you can count them out," said McNish, who has twice won the Le Mans 24 Hours. "Perez is quick, but he's new to the team and there will be a lot of reliance on Button's experience.
"McLaren don't traditionally start the season well but they are very good at developing a car throughout the season.
"They will give Button a car that can challenge for the championship but will they be able to do it in time?"