Chinese GP: Bleak marshland, pollution... and cracking races
Last updated on .From the section Formula 1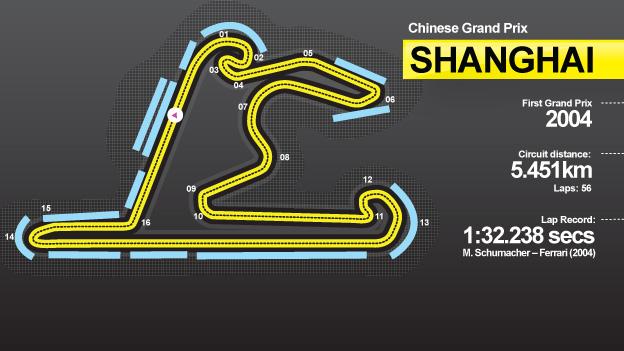 Reigning world champion Sebastian Vettel returned to familiar surroundings in Malaysia, taking his first victory of the season and regaining the lead of the Formula 1 World Championship.
However, winning in China may prove tricky as just one driver - Lewis Hamilton - has managed victory more than once at the Shanghai International Circuit since the venue first held a race in 2004.
The race has failed to capture the hearts of the locals, with partially filled grandstands a familiar sight, but it almost always delivers an exciting race thanks to the circuit layout. Here's hoping for more of the same on the track's 10th F1 anniversary this weekend.
The track
The 5.451km circuit features the calendar's longest straight (1.175km) followed by a tight hairpin corner and a flurry of tricky, low-speed corners and heavy-braking which require good traction and low-speed grip.
The layout was inspired by the Chinese character "shang", the first letter of the host city Shanghai, meaning "ascend".
Designed by Herman Tilke, the circuit may only be 10-years-old, but it has been the scene of many a momentous occasion. Lewis Hamilton saw his title hopes evaporate when he beached his McLaren in the gravel on the pit road in 2007.
A year before, Michael Schumacher scored his 91st and final F1 victory in 2006 in a rain-hit race, chasing down the Renaults of Fernando Alonso and Giancarlo Fisichella to take the chequered flag. While in 2009, Vettel sealed Red Bull's first ever race win.
In 2011, the grand prix saw a remarkable 77 pit stops by a field of 24 cars, while last year Nico Rosberg finally won his first grand prix when he triumphed for Mercedes. It was also the German outfit's first win since they returned to the sport in 2010.
The venue
The Shanghai International Circuit was built on reclaimed marshland in 2004 and required 40,000 stone pillars - 40-80m deep - to stabilise it before building could even begin.
However in 2011, the venue was treated for subsidence as the materials used to artificially elevate sections of the circuit began to give way, causing the areas around Turns One, Eight and 14 to sink.
The race has traditionally struggled to fill grandstands, although that could have something to do with high ticket prices. The average monthly salary of someone who lives in Shanghai was £455 in 2011.
The cheapest ticket for this year's race costs just under a tenth of that at £45 while the most expensive is almost a whole month's salary at £390.
Weather-wise, the event tends to be cooler and rather more overcast and a rain shower is common. This year, temperatures are expected to hover around the 20C mark.
What the drivers say...
Red Bull driver Sebastian Vettel: "Shanghai was the scene of my first win with Red Bull in 2009. There was a lot of rain, but we held it together and got our first team win and one-two. Turns 12 and 13 are difficult to get right, as they demand a lot of technique, especially Turn 13 which leads into a really long straight."
Mercedes driver Nico Rosberg: "I travel to China with very good memories from winning my first Formula 1 race last year, and having led the race there for the past three years. I enjoy the Shanghai track and I have a positive feeling going there with the car that we have at the moment."
McLaren driver Jenson Button: "I've always enjoyed racing here. Our car has always performed well around this circuit and we've always seemed to be able to find a good balance between the slow stuff, the high-speed changes of direction and the drag-loss needed for the long straight."
Force India driver Adrian Sutil: "It's an interesting circuit and there are some unusual corners, such as Turn One - the long right hander. The track is wide and you can run some different lines through a lot of the corners, which is probably why it's a track where you can overtake quite easily."
BBC Radio 5 live analyst Allan McNish's view
"The Shanghai International Circuit has the longest straight on the calendar but the rest of circuit is actually made up of quite slow corners. Low-speed grip is key as you want to get out of a corner efficiently. A car with a good mechanical grip which is nice and compliant will be good at this kind of track.
"It's a bit cooler in China at this time of year which will help Mercedes who were very strong there last year. I expect Red Bull to also be strong and I think Lotus will be right back on track after slipping back in Malaysia."
A classic Chinese GP
Seven-time world champion Michael Schumacher will have fond memories of the 2006 Chinese Grand Prix as it was the scene of his 91st and final Formula 1 victory.
Starting sixth, behind both Renaults and Hondas plus McLaren's Kimi Raikkonen, Schumacher remained patient in the early stages of the race in wet, tricky conditions.
As the track started to dry, the German began to reel in his rivals, first passing the Honda of Rubens Barrichello and then Jenson Button for fourth. That became third when Raikkonen retired.
Schumacher then set off in pursuit of the Renaults, passing Fernando Alonso on lap 31 but struggling to find a way past Giancarlo Fisichella for the lead. The German pitted a lap earlier than the Italian, which proved inspired.
As Fisichella emerged from the pits to retake the lead, he ran wide with his cold tyres and Schumacher, who had had an extra lap to heat them up cut through down the inside to take the lead and go onto victory.
Alonso, who lost 19 seconds in his final stop battled back from fourth and 50 seconds behind the leaders to finish second, just three seconds adrift.