McLaren say they have identified weaknesses with their 2013 car
By Lawrence Barretto
BBC Sport
Last updated on .From the section Formula 1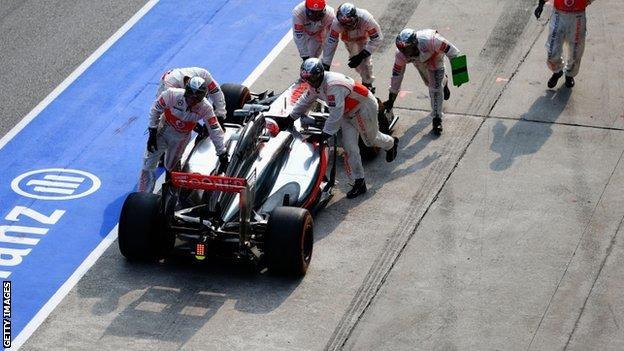 McLaren believe their championship challenge is back on track after they identified the problems with their car.
The team have scored just four points this season, 62 less than leaders Red Bull ahead of this weekend's Chinese Grand Prix, which is live on the BBC.
"It has not been an ideal start but I believe in the team and I believe in this car," said McLaren managing director Jonathan Neale.
"We know where the problems are and I believe we're on the right track now."
Jenson Button and new team-mate Sergio Perez struggled in qualifying and the race in Australia, with Button battling to ninth place for his only points finish of the season so far.
McLaren's pace improved in Malaysia, but a bungled pit-stop denied Button a potential podium finish and Perez could only finish ninth for two points.
As a result, McLaren are seventh in the constructors' championship with four points in contrast to last year when they led the way with 55.
However, Button said on Friday that the team had worked hard during the three-week break between Malaysia and and he believed everything was still to play for in the fight for the championship.
Neale agreed, adding: "It's a long season. Everything we do is designed to get us to win races and if we can get on that quickly - and there's no reason why we can't - we should be fighting for the championship.
"We're taking a number of upgrades to China, some are part of a routine upgrade package and some are in response to what the car is doing at the moment.
"So there is a lot of work to do on Friday practice as we learn more about the car and learn if any of the upgrades work. It'll be a very busy day for Sergio and Jenson.
"But as always with these cars, there's no one magic bullet. There are a number of things that will restore performance.
"We believe we have a very good package, but it's clearly not the performance that we predicted at the moment.
"Everyone is working hard and we're buoyed by the hard work of Sergio and Jenson both in and out of the car."