Murray's memories: European GP 1993 - Sensational Senna

By Murray Walker
Formula 1 Analyst, BBC Sport
Last updated on .From the section Formula 1
Legendary F1 commentator Murray Walker will be providing a series of archive-based videos and written articles for every race of the 2013 season.
'Murray's Memories' are his personal recollections of some of the most dramatic moments in the history of F1, and the third in the series is 1993's Donington Grand Prix...
Not only was the Brazilian a truly great driver - one of the very best there has ever been - but he was also a remarkable human being, who could be utterly ruthless in one part of his life but also incredibly giving in another.
Senna was the central figure in some of the best races I have ever seen - and the man responsible for what was by common consent the most amazing opening lap in the history of Formula 1.
The 1993 season looked like being Senna's great rival Alain Prost's year in the dominant Williams-Renault, while Senna was handicapped by a customer Ford engine and a car that, for most of the season, was no match for the Williams.
But after Prost won the opening race in South Africa, Senna took the second after the Frenchman spun off in wet conditions in Brazil and was leading the championship as the teams arrived in England for the European Grand Prix at Donington Park.
Senna qualified only fifth and was briefly sixth on the run to the first corner, but what followed in torrential rain was utterly breathtaking - and I was as spellbound in the commentary box as everyone else watching.
Passing Michael Schumacher's Benetton on the exit of the first corner, Redgate, Senna went around the outside of Karl Wendlinger's Sauber at the daunting Craner Curves.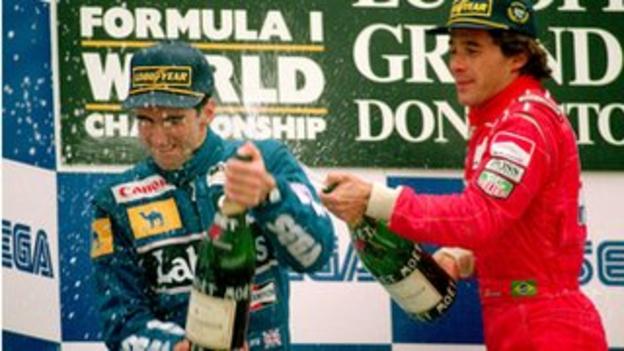 That put him third behind the Williams cars of Prost and Damon Hill.
He lunged up the inside of Hill at McLeans and then closed in on Prost, passing him into the hairpin.
Incredible! And Senna's mastery continued for the rest of the race.
In the ever-changing conditions there were a staggering 63 pit stops for tyres during the race - six for Hill, seven for Prost but only four for Senna, who not only slaughtered the opposition but made the fastest lap by driving non-stop through the pit lane!
It was a race that will live in my memory for ever. Few drivers have left as much of an impression on me as Ayrton Senna.