Fernando Alonso: No regrets over Malaysia wing decision

By Andrew Benson
Chief F1 writer
Last updated on .From the section Formula 1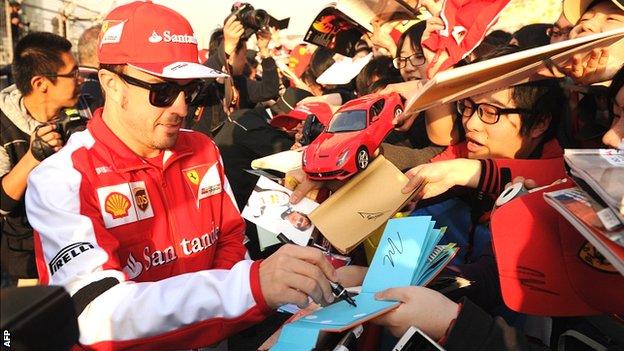 Ferrari's Fernando Alonso says he has no regrets over the decision that caused his retirement from the Malaysian Grand Prix.
Alonso insisted every driver has two or three retirements a season and others would suffer bad luck.
But he admitted he would be "a bit more careful" in the future.
"There are two or three DNFs for everyone in every championship in the last 10 years of F1," Alonso said before the Chinese Grand Prix on Sunday.
"It happened to [Mercedes driver Nico] Rosberg in Australia, to me in Malaysia.
"I hope not, but I guess it will happen to me again because the average is two or three DNFs so we need to be prepared for that and, when it comes to the others, try to take the opportunity to score the maximum points.
"Obviously we regret having the contact in the second corner. Stopping or not stopping the damage was already done, so we will try to be a bit more careful, take a little bit more margin and hopefully [it will] not happen again."
Alonso damaged his front wing against the back of Sebastian Vettel's Red Bull at the second corner in Malaysia. Vettel, who has narrowly beaten Alonso to the title in two of the past three years, is now leading the championship.
Ferrari have said it was their decision to tell Alonso to continue rather than make a pit stop to change the wing immediately.
After the Malaysian race, Alonso said he had been "surprised" by how slow Vettel was going at the time of the incident.
His remarks have since been interpreted as implying the German was going deliberately slowly in a bid to delay Alonso and prevent him trying to pass at the next corner.
But asked on Thursday whether he felt Vettel was deliberately trying to 'back him up', as the technique is known in F1, Alonso said: "No, no. Impossible, because there are 24 cars in the first two corners and you never know which lines the other people are using, so you try to be as fast as you can.
"But for sure the track conditions were a little bit better than the speed we were going and it was a mistake from me."
Alonso has been out-qualified by team-mate Felipe Massa for the first two races of this season and the last two of 2012 - and if the Brazilian achieves the feat again he will become the first team-mate ever to out-qualify the Spaniard for five consecutive races.
"He is driving 100%," said Alonso.
"It is true for these calculations you are doing strange numbers and strange calculations, taking races from last year and this year.
"In Australia qualifying was dry tyres with a wet track, in Malaysia it was with intermediate tyres on a nearly dry track so [they were] not completely normal qualifying [session].
"But it is good, he is doing a fantastic job. Hopefully I can finish in front of him in some qualifying [sessions] this year and if I do it will be an extraordinary lap."