Chinese GP: Felipe Massa fastest in second practice for Ferrari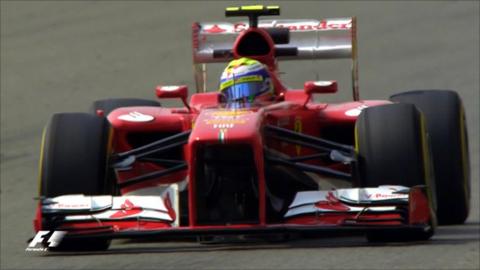 Ferrari's Felipe Massa headed Lotus's Kimi Raikkonen in second practice at the Chinese Grand Prix.
The Brazilian was more than 0.4 seconds quicker than team-mate Fernando Alonso in third place, with Mercedes' Nico Rosberg fourth fastest.
Red Bull's Mark Webber was fifth ahead of McLaren's Jenson Button and the Mercedes of Lewis Hamilton.
The Force Indias of Adrian Sutil and Paul di Resta were eighth and ninth, from Red Bull's Sebastian Vettel.
Mercedes had dominated the first practice session and were first and second, with Rosberg narrowly ahead of Hamilton after the first runs in second practice, too.
But in the middle of the session, when the teams are preparing for qualifying, Massa produced an impressive lap of one minute 35.340 seconds to set the pace.
Raikkonen was just 0.152secs adrift, with Alonso 0.415secs behind his team-mate.
The two Ferraris were running in different specifications as the team evaluated a series of upgrades aimed at closing the gap to the pace-setting Red Bull, Mercedes and Lotus cars. The Ferrari has been on balance the fourth quickest car so far this season.
Massa this weekend has the chance to become the first team-mate of Alonso ever to out-qualify the double world champion five times in succession, counting the end of last season and the beginning of this.
"I was not really happy with the medium tyres, we were not so quick," Massa said. "But it was amazing to see how much we improved with the soft tyres, I didn't expect that and when I did the race simulation the pace was very good, very competitive.
"[I'm] confident for the weekend. I think we can do everything we did today on tomorrow and Sunday as well."
Rosberg ended the session just less than 0.5secs slower than Massa, although he set his time considerably earlier in the session when the track would have been in less good condition.
"Mine and Nico's pace was quite competitive today," said Hamilton. "I think we are there or thereabouts."
When asked if victory on Sunday was a possibility he added: "Not just yet; we're working on it. The car definitely doesn't feel bad. For me, I'm still finding myself a little bit uncomfortable in the car.
"We just made a change going into this session on the brakes and it made a massive difference, a positive step, so I'm hoping to make some more steps like that just to make me more comfortable in the car."
Webber was 0.752secs off the pace and Vettel 1.451secs adrift and complaining of problems with vibration and locking brakes.
Red Bull took the unusual step of shaving the top off the barge boards - the aerodynamically shaped pieces of bodywork behind the front tyres - during the session.
"It was a tricky day for us," said Vettel. "I seemed to struggle a little bit more this afternoon; the gap to the guys at the top is a bit bigger than I would like.
"But we have two or three things to work on and we should be in better shape tomorrow. It's not a disaster. It's not as if we are in the dark. But I don't have the answer right now."
BBC F1 technical analyst Gary Anderson said: "You can see when teams are in control and when they are not in control. And Red Bull did appear to be in a little bit of a thrash."
McLaren were running with a revised rear bodywork in an attempt to solve the aerodynamic problems that have blighted them in the first two races.
The team seemed to show some improved form, with Button 1.092secs off the pace on headline times.
BBC F1 commentator Ben Edwards said: "Ferrari seem to be in good shape on ultimate lap time but it looks as close as ever on race pace between them, Mercedes, Red Bull and Lotus."
Teams were reporting over the radio that the 'soft' tyre on which they set their fastest times and which will be used for qualifying was unlikely to last very long in the race.
Pirelli motorsport director Paul Hembery said: "The medium tyre showed it could do a 20-lap stint, which is borderline two and three stops. The soft tyres are going quicker than we expected - about 1.5secs quicker than the medium. We will see how they get on on the longer runs but the track is improving a lot. It was very dusty this morning."
Button suffered a delamination of the left-front tyre after suffering a flat caused by locking his brakes when running on the 'soft' tyre, with slightly less than 15 minutes of the session remaining.
Gary Anderson added: "It does seem to be heading towards a two-stop race - for some people at least. The limitation seems to be the front tyre wearing out and you can live with that."
Marussia's English driver Max Chilton had a frustrating second session. He stopped out on the circuit on his first lap when a fail-safe sensor shut down his engine and when he finally got back out again the car ground to a halt.
Second Practice result:
1. Felipe Massa - Ferrari - 1:35.340
2. Kimi Raikkonen - Lotus - 1:35.492
3. Fernando Alonso - Ferrari - 1:35.755
4. Nico Rosberg - Mercedes - 1:35.819
5. Mark Webber - Red Bull - 1:36.092
6. Jenson Button - McLaren - 1:36.432
7. Lewis Hamilton - Mercedes - 1:36.496
8. Adrian Sutil - Force India - 1:36.514
9. Paul Di Resta - Force India - 1:36.595
10. Sebastian Vettel - Red Bull - 1:36.791
11. Sergio Perez - McLaren - 1:36.940
12. Romain Grosjean - Lotus - 1:36.963
13. Esteban Gutierrez - Sauber - 1:37.103
14. Daniel Ricciardo - Toro Rosso - 1:37.206
15. Jean-Eric Vergne - Toro Rosso - 1:38.127
16. Valtteri Bottas - Williams - 1:38.185
17. Nico Hulkenberg - Sauber - 1:38.211
18. Pastor Maldonado - Williams - 1:38.276
19. Jules Bianchi - Marussia - 1:38.725
20. Giedo van der Garde - Caterham - 1:39.271
21. Charles Pic - Caterham - 1:39.814
22. Max Chilton - Marussia - 1:43.227
Chinese Grand Prix, day one
Friday, 12 April:

First practice highlights: 11:50-13:30 BST, BBC Two; Second practice highlights: 13:30-15:10 BST, BBC Two
Chinese Grand Prix, day two
Saturday, 13 April:

Third practice: 03:55-05:05, BBC Two/BBC HD, BBC Radio 5 live sports extra and live text commentary online; Qualifying: 06:00-08:30, BBC One/BBC Red Button, BBC Radio 5 live sports extra from 06:55 and live text commentary online; Qualifying replay: 13:00-14:15, BBC One/BBC HD.
Chinese Grand Prix, day three
Sunday, 14 April:

Race live: 07:00-10:15 BST, BBC One/Red Button, BBC Radio 5 live from 07:45 BST and live text commentary online. Race replay: 14:00-16:00 BST, BBC One/BBC Red Button, Race highlights: 19:00-20:00 BST, BBC Three.