Chinese GP: Vettel can win from ninth, says Jenson Button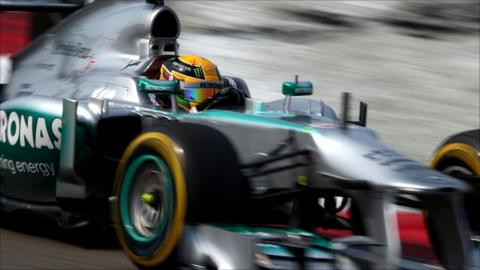 Red Bull's Sebastian Vettel can win the Chinese GP despite starting ninth on the grid, says McLaren's Jenson Button.
Vettel and Button, who is eighth, sacrificed grid positions so they could start the race on the more durable 'medium' tyre. Those ahead will start on the fragile 'soft'.
Button said: "We have a very fast car next to us [Vettel]. He is starting just behind me on slightly newer tyres.
"He is the guy who is really going to challenge at the front for the win."
Button believes the McLaren is not fast enough to fight at the front despite improvements introduced in China this weekend.
For us, we just have to hold on and see where we end up. But this is the best option for us given where we are with the car," he said.
"We're eighth or seven tenths off the pace so we're a long way off the front.
"It's great we've got the parts on the car. But you always want more. We've made a small gain but it's not as big as we would hope."
The race will be dictated by strategy, as the front-runners who start on the 'soft' tyre will suffer from its rapid degradation of as much as a second a lap.
Button and Vettel will hope to take the lead when the likes of Mercedes' Lewis Hamilton, Lotus's Kimi Raikkonen and Ferrari's Fernando Alonso, who start first second and third, have to pit after a few laps. However, all drivers have to use both types of tyre at some point during the race.
"I've looked at a few of the tyres of the soft runners and they looked grained [when the surface tears, reducing grip]," Button said.
"Not as bad as we saw in Melbourne [at the first race] but they look grained, and it's going to be cooler so we're going to see the graining we saw yesterday on high fuel.
"They're going to struggle with that at the start of the race. Hopefully we can get a good start and at some point we should find some clear air in front of us.
"I don't think any of us understand the tyres around here. The race is an hour later than qualifying [at 0800 BST] and it will be cooler so hopefully the soft tyres will be a struggle, but we have to run them in the end.
"It's going to be an interesting first few laps - a lot of fun for the fans and interesting for us.
Vettel chose the same route as Button because unusually the Red Bull was not fast enough to compete for pole. Red Bull's race pace is competitive.
The world champion said: "Obviously we are on a different strategy. We will see whether it works tomorrow. But I am confident we did the right thing."
Alonso said he was worried about both the ability of Raikkonen's Lotus to preserve its soft tyres and Vettel behind him.
"[I'm] optimistic," the Ferrari driver said, "not only [about the result in] qualy, but the weekend in general has been good for us.
"Both cars were competitive in all sessions so it is looking good for us. But the race is the race. Many factors are in play and we know tyres will be the key factor again.
"We start alongside Kimi and the Lotus is one of the best with tyres so it is going to be tough, but so far so good.
"The strategy will be around this issue with the softs not lasting so much and different strategy for other cars starting ninth or 10th and we need to monitor what they do and make some decisions."
Chinese Grand Prix, day two
Saturday, 13 April:

Qualifying replay: 13:00-14:15, BBC One/BBC HD.
Chinese Grand Prix, day three
Sunday, 14 April:

Race live: 07:00-10:15 BST, BBC One/Red Button, BBC Radio 5 live from 07:45 BST and live text commentary online. Race replay: 14:00-16:00 BST, BBC One/BBC Red Button, Race highlights: 19:00-20:00 BST, BBC Three.