Chinese GP: Red Bull's Mark Webber given Bahrain grid penalty

By Andrew Benson
Chief F1 writer
Last updated on .From the section Formula 1291
Red Bull's Mark Webber has been hit with a grid penalty for causing a collision with Toro Rosso's Jean-Eric Vergne during the Chinese Grand Prix.
The Australian will be demoted three places at next weekend's Bahrain race.
Webber said he felt Vergne, who drives for Red Bull's sister team, had been leaving him room to pass on the inside.
Sauber's Esteban Gutierrez was given a five-place penalty for cannoning into the back of Force India's Adrian Sutil at Turn 13 early in the Shanghai race.
Webber said: "I was regrouping and coming through the field and got to Jean-Eric.
"I was coming from a reasonable distance back but he knew I was there.
"He was really, really wide and looking like he opened the corner and was giving me the line.
"But we got to the apex and he took it.
"It's disappointing. He was entitled to do that, but if he'd just gone around the outside we would've both survived.
"It probably looks quite clumsy but I couldn't get out of it."
He admitted that in the TV replays used by the race stewards to determine the penalty "one view looks like Jean-Eric is giving me the line and the other view looks more on me".
It was a sour end to a difficult weekend for Webber, who was disqualified from qualifying because Red Bull did not put enough fuel in his car to satisfy the rules and started from the pit lane.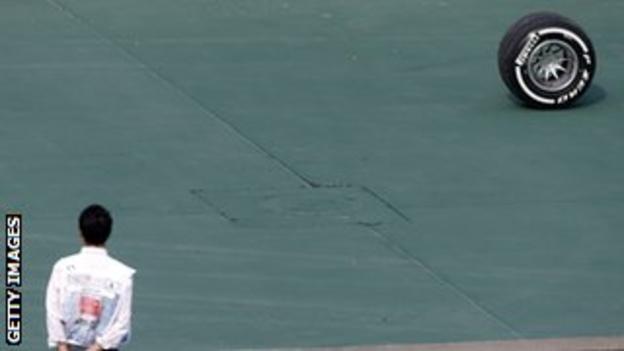 He retired from the race when a rear wheel that had been incorrectly fitted at a pit stop, made shortly after the incident with Vergne, came off the car.
Gutierrez apologised for his incident, saying he had made a mistake.
Webber and a number of other drivers, including McLaren's Jenson Button, were investigated for using their DRS overtaking zone in a yellow caution zone, where it is forbidden. But no action was taken.
McLaren's Sergio Perez escaped punishment for a collision with Lotus's Kimi Raikkonen caused when the Mexican edged the Finn to the outside of the track approaching Turn Six.
"I was next to him and I don't know if he didn't see me," Raikkonen said.
"I thought he was going to leave me space but he didn't.
"I went on to the grass to avoid him. Luckily there was a kerb and I got some grip back. But I hit him in the back."
The incident damaged the front wing and nose of the Raikkonen's car, without which damage he said he could have challenged race-winner Fernando Alonso's Ferrari more strongly.
Perez also angered Lewis Hamilton and Alonso when he 'weaved' in front of them when they were trying to pass him early in the race.
Hamilton felt Perez was driving dangerously, telling Alonso and Raikkonen after the race that the McLaren was "all over the place", but the stewards saw nothing wrong in the incidents.