Chinese GP: Force India's Paul Di Resta rues Adrian Sutil collision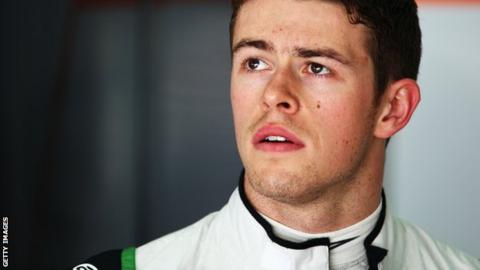 Force India's Paul Di Resta says his early collision with "aggressive" team-mate Adrian Sutil stopped him finishing higher in the Chinese Grand Prix.
Di Resta was put on the grass after making contact with Sutil at the first hairpin but recovered to finish eighth.
"I was a bit unfortunate with Adrian [Sutil] being a bit aggressive at the start of the race," said the Scot.
"Whether he intended that I don't know. We will discuss it in-house, but that cost us the most during the race."
Championship leader Sebastian Vettel's advantage was cut to three points as Lotus's Kimi Raikkonen finished two places above the German in second.
But Raikkonen, who trailed race winner Fernando Alonso by almost 11 seconds, was delayed slightly by a damaged nose and front wing that was caused by a clash with McLaren's Sergio Perez.
"In the end it was an OK result, but obviously we wanted to win," said the Finn.
"As for the incident with Perez, I went on to the grass and I hit him at the back which caused a lot of understeer.
"But we were still able to still fight for points. They were good points and we will try to do better next time."
Toro Rosso driver Daniel Ricciardo, 23, converted his superb seventh place on the grid into the same final position - his highest finish in 34 races since his Formula One debut in 2011.
"I am really pleased to score my first points of the season and to confirm the qualifying performance," said the Australian.
"After qualifying I kept calm, knowing the real work would begin [in the race].
"The last time I qualified this well was sixth in Bahrain last year and then I failed to score, so I really wanted to show people what I could do.
"This weekend it felt like everything clicked into place - now I expect us to continue getting stronger from here on."
Nico Hulkenberg led the race in Shanghai in the early stages, before eventually finishing 10th after two pit-stop errors in his Sauber.
"It was quite a mixed race with mixed emotions," he said. "It was obviously very nice to be leading again, and to be at the front battling with the top teams.
"I was able to gain some positions, but towards the end of the race we were losing or lacking a little bit of pace. I don't think the two issues I had in the pit lane made a difference between winning or losing."
Hulkenberg's team-mate Esteban Gutierrez received a five-place grid penalty for next weekend's Bahrain Grand Prix after hitting the back of Sutil, which put both drivers out of the race, on lap seven.
"I approached the corner too fast," admitted the Mexican. "I was braking at the same place where I usually brake, but didn't anticipate the loss of downforce and the amount of speed I had.
"I tried my best to stop, but didn't succeed. It was definitely my fault and I apologise to Adrian and to his team."
Sutil, who had to retire with rear wing damage, added: "On the straight I was braking for the hairpin and when I turned the corner I felt the hit on the rear. That was that - the rear wing was broken. It was a shame."
Chinese Grand Prix, day three
Sunday, 14 April:

Race highlights: 14:20 BST, BBC One.