Chinese GP: Title race is very open - Ferrari's Fernando Alonso

By Andrew Benson
Chief F1 writer
Last updated on .From the section Formula 1
Ferrari's Fernando Alonso said after his dominant Chinese Grand Prix victory that the world championship fight was "very open".
Alonso said: "At the moment I think Ferrari, Lotus, Red Bull and Mercedes are very similar. It is very close to call and a very open championship."
He said it was too early to predict who would be disputing the title.
"We need to wait until maybe after the summer break or something like that to clearly see the real contenders," Alonso said.
"Hopefully we are in that group after the summer. Hopefully Felipe [Massa, his Ferrari team-mate] can be in that group as well; that will mean that the car is going well, and I think at the moment Lotus, Red Bull and Mercedes are in the same position as us, let's say.
"I don't see anyone has a clear advantage.
"Maybe Red Bull was very dominant in Australia in all free practices; in qualifying and the race they were suffering a little bit of [tyre] degradation but definitely very fast.
"In Malaysia, they were maybe a little bit more in the groove but here they were similar to the others so let's wait and see what the updates of every car brings to the pace, and we will see how luck plays."
But he admitted that he had been encouraged by Ferrari's strong start to the season - he finished second in Australia and crashed out on the second lap in Malaysia with a damaged front wing after qualifying third.
"The two races we finished this year; one second place and today the victory so definitely the start of this 2013 campaign is looking good so we are very optimistic." Alonso said.
"We need to keep going like that, in this direction, with good weekends, with not any extra risk and hopefully in Bahrain [next weekend] we can score some good points again."
He said he expected Ferrari to be in contention again in the Middle East.
"I expect a tough race again," he said. "In Bahrain I think we will see different conditions and who knows how competitive anyone can be?
"But definitely from the races that we finished this year the car seems to be able to be on the podium, so we hope to be on the podium again in Bahrain."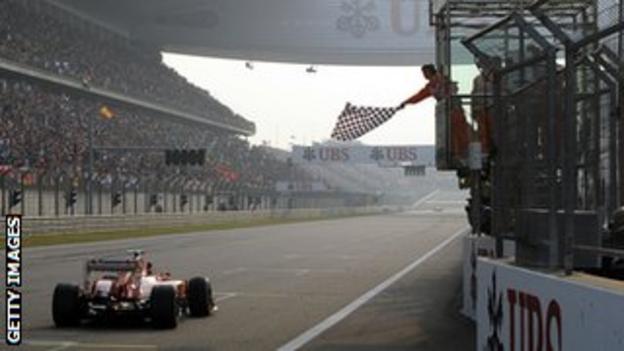 But he said Ferrari still needed to work on improving their pace in qualifying.
"The team made a step forward but on Sat we have not as much pace as Red Bull or Mercedes. Lotus have good race pace so we need to look at that. On Sunday we have good long run pace so we need to use that," he said.
Raikkonen, who is three points behind Vettel and six ahead of Alonso, said: "As Fernando said, from race to race, one team is a little bit stronger at one race and the next race is a bit of a different story. Whoever gets it best on Sundays and Saturdays will win, so it will be interesting."
Vettel finished fourth in China after choosing a different strategy from the front-runners because his car did not have the pace to qualify at the front.