Bahrain Grand Prix: Pirelli decide against using soft tyres
Last updated on .From the section Formula 1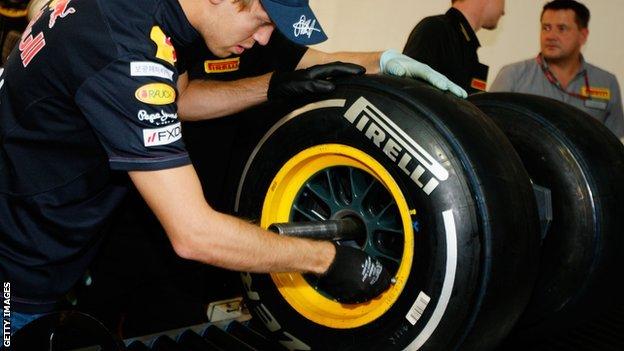 Formula 1 tyre suppliers Pirelli will not use their soft tyres at the Bahrain Grand Prix this weekend after concerns about how quickly they wear out.
The decision to bring the hard and medium compounds was made after the Malaysian Grand Prix, a similar track.
"Bahrain is one of the most demanding tracks because of high ambient and track temperatures," said Pirelli's motorsport director Paul Hembery.
Soft and medium tyres were used in last year's Bahrain Grand Prix. All drivers are required to use both tyre compounds during a dry race.
"We expect about three stops per car," Hembery added.
Tyre degradation is expected to be reasonably high during the race in Bahrain, the fourth grand prix of the 2013 season.
Red Bull's Sebastian Vettel leads the drivers' standings after three races, with Lotus driver Kimi Raikkonen second and Ferrari's Fernando Alonso, who won in Shanghai last week, third.