Bahrain GP: F1 can have 'healing effect', claims FIA president
Last updated on .From the section Formula 1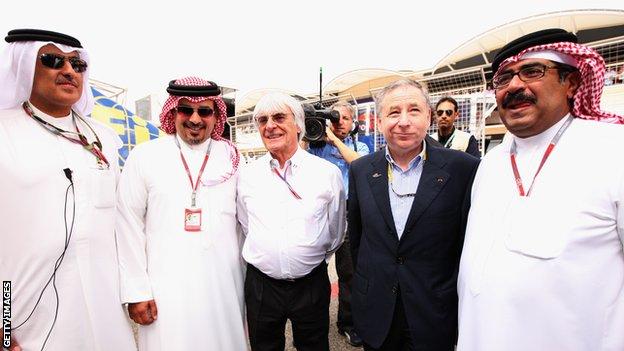 FIA president Jean Todt says the Bahrain Grand Prix can have a "healing effect" on a country struggling with civil unrest.
Sunday's race is taking place amid a week of protests organised by opponents to the ruling royal family.
MPs and protest groups in Bahrain have called for the race to be cancelled.
But Todt said: "Sport and F1 can have a positive and healing effect in situations where conflict, social unrest and tensions cause distress."
His statement was made in a letter to the Bahrain Center for Human Rights, the Bahrain Press Association, the Bahrain Youth Society for Human Rights and the Campaign Against Arms Trade.
The four groups had written to FIA demanding that the race is cancelled, as it had been in 2011 following a bloody crackdown by the authorities on an anti-government uprising in which at least 35 people died.
Last year's race did take place but only after F1 boss Bernie Ecclestone and FIA gained assurances that the teams' personnel would be safe.
Todt will not attend the controversial race despite being the head of Formula 1's governing body.
The Frenchman, who once ran the Ferrari F1 team as Michael Schumacher's boss, has attended few grands prix and has devoted more of his time to road safety campaigns and travelling the world to visit member federations.