Bahrain Grand Prix: Circuit boss says teams will be 'absolutely' safe
Last updated on .From the section Formula 1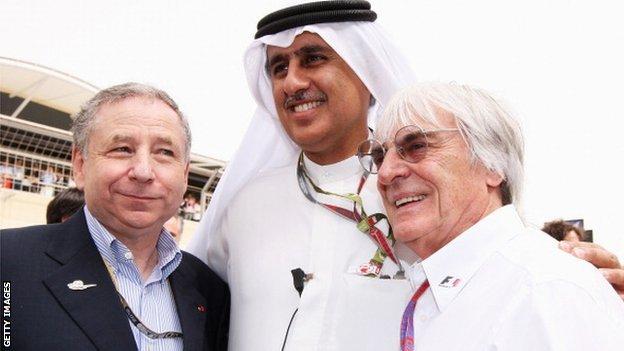 The chairman of the circuit which will host this weekend's Bahrain Grand Prix believes the event is "absolutely" safe enough to host teams and drivers.
Zayed Al Zayani said a survey suggested that 77% of Bahrainis wanted the race to take place.
"Is it safe? Absolutely. They have always been safe here and I think this year won't be any different," he added.
McLaren's Jenson Button said he trusted the sport's governing body, the FIA, to "make the right decision".
The 2009 world champion added: "The FIA makes the decisions as to whether races go ahead or not. We race at 19 circuits around the world and we've got to listen to what they say.
"We trust in the FIA that they will make the right decision and here we are racing in Bahrain."
The event two years ago was first postponed and later cancelled after month-long pro-democracy protests were crushed and at least 35 people died.
Last year's race went ahead once Ecclestone and governing body the FIA said they had been assured the kingdom was safe for F1 personnel.
There are similar concerns this time around and, in a letter signed by 20 MPs, the All-Party Group asked Ecclestone to call off the Grand Prix.
But in response, FIA president Jean Todt - who is not attending the race in the Middle East - said the Bahrain Grand Prix can have a "healing effect" on a country struggling with civil unrest.
Speaking to BBC Radio 5 live, Al Zayani said: "The F1 race has received appreciation from everyone in Bahrain including the opposition parties who say they support the race this year and last year.
"I think it is a unified position, and something where the nation is behind it and represents a cross-section of the Bahrain community.
"We're not 100% back to normal [after the events of 2011]. That's evident because there is a dialogue going on between the government and the opposition.
"It's good that the dialogue is going on. I think we've come a long way, there has been a lot of reform since 2011, and there is more to come.
"We conducted a survey and it turned out 77% of the people wanted the race in Bahrain and 90% believed it contributed positively to the economy.
"[Last year's race] had a positive contribution to economy. If I remember rightly, it was around $280m (£184m). This year, ticket sales are looking better than last year."