Bahrain Grand Prix: F1 bosses told 'security is guaranteed'

By Andrew Benson
Chief F1 writer
Last updated on .From the section Formula 1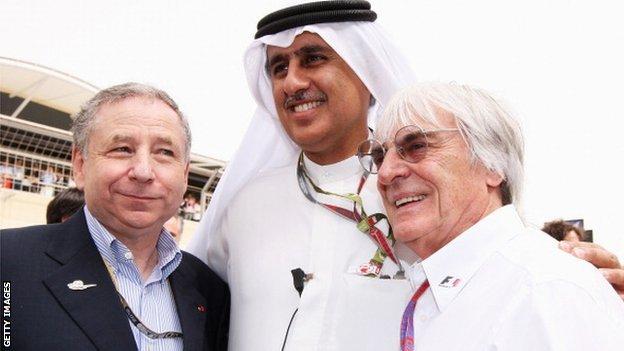 Formula 1 bosses say they have been told that "security will be guaranteed for all participants" at this weekend's Bahrain Grand Prix.
The race has become a target for protestors in a Gulf kingdom affected by civil unrest.
Youths had skirmishes with police on Friday after a peaceful rally.
But the FIA, which governs F1, and commercial rights holder Formula 1 Management (FOM) say they have been reassured over security.
The ruling Sunni royal family have been accused of human rights abuses and oppressing the Shi'ite majority.
Salman bin Hamad al-Khalifa, the country's Crown Prince, said on Thursday that he believed Bahrain was making progress with its problems.
And 24 hours later he insisted the race was safe for spectators and teams.
He told BBC Sport: "Absolutely. I'm sure that after the demonstration, which is legal and licensed... there will be a very small minority of violent protestors who will try to cause some trouble with the police.
"That's par for the course unfortunately and we've always called on the organisers of the marches to try and control the more rowdy elements."
The FIA/FOM statement said: "The Federation Internationale de l'Automobile (FIA) and Formula One Management (FOM) wish to jointly confirm their belief that the Bahrain GP should go ahead this weekend, following assurances from the local promoter and the authorities that security, their responsibility, will be guaranteed for all participants.
"The FIA and FOM also strongly believe that sport can often be a force for good and that the staging of the Grand Prix in Bahrain will come some way in helping soothe some of the issues which have been raised in the media."
Two years ago, the Bahrain race was first postponed and later cancelled after month-long pro-democracy protests in which at least 35 people were killed.
Last year's race went ahead only after organisers provided safety assurances. However, despite those pledges, Force India team members were forced to flee when petrol bombs were hurled over their vehicle as they left the circuit.
So far this year, no F1 personnel have encountered any trouble.
But a British TV crew was forced to leave by the country's authorities as they reported on the violent clashes taking place in the build-up to Sunday's race.
An ITV News spokeswoman said: "Our news team were on assignment with visas approved by the Bahraini authorities.
"Having filed a report [on Thursday], they were stopped while filming [on Friday morning] and taken to a local police station for discussions with officers.
"They have since been asked to leave the country, which they are in the process of doing."
Ahead of this year's race, a group of 20 UK MPs wrote to Formula 1 boss Bernie Ecclestone asking him to call off the event.
His reply, sent on Tuesday, read: "It is a great shame that you did not contact me at the end of last year before the race was put on the calendar. It is impossible to cancel at this late stage due to the various commitments of all participants."
McLaren's Jenson Button, the 2009 world champion, said he trusted the FIA to "make the right decision".
The 33-year-old Briton added: "The FIA makes the decisions as to whether races go ahead or not. We race at 19 circuits around the world and we've got to listen to what they say."