Bernie Ecclestone 'happy' to extend Bahrain's contract
Last updated on .From the section Formula 1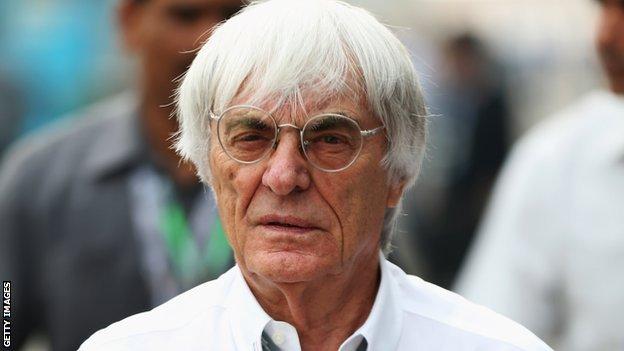 Formula 1 boss Bernie Ecclestone says he would be happy to give the Bahrain Grand Prix a further five-year contract despite controversy over the setting.
He previously said the Bahrain government were to host a race because of the opportunity it gave political protestors.
Sunday's race, went off without any incident.
"We're happy to give a new contract for five years," said Ecclestone.
"I feel they do a super job and don't see any problems."
The event two years ago was first postponed and later cancelled after month-long pro-democracy protests were crushed and at least 35 people died.
Last year's race went ahead once Ecclestone and governing body, the FIA, said they had been assured the region was safe for F1 personnel.
Once again this year some MPs and protest groups called for it to be cancelled after protests were planned.
"We're still contracted to 2016, but obviously we are willing to look beyond that," said Bahrain International Circuit chairman.
"We've not started negotiations yet, but we are happy to look at it. The intentions for a contract extension are definitely there.
"We're committed to the sport, we were the first race in the Middle East - we call ourselves the home of motor sport in the Middle East.
"We believe that in every sense of those words. We are here for the long term and want to be known as the friendly race."